Feds bust major marijuana operation, agency says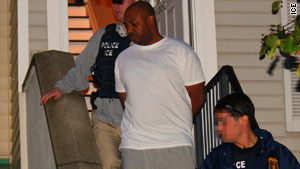 Immigrations and Customs Enforcement agents arrest Kareem "Biggs" Burke as part of Operation Green Venom.
STORY HIGHLIGHTS
A founder of Jay-Z's record label is among those arrested
Alleged leader of the organization is also arrested
Arrests and search warrants were executed in three states
(CNN) -- Federal agents capped a two-year investigation Friday with dozens of arrests they say have broken open a marijuana smuggling operation that "dominated" the New York market for two decades, Immigrations and Customs Enforcement announced.
Among those arrested were Kareem "Biggs" Burke, a founder of rapper Jay-Z's Roc-A-Fella Records, and High Times magazine ad salesman Matthew "Magazine Guy" Stang, ICE said.
"These criminal organizations have allegedly dominated the illegal marijuana market in New York City for almost 20 years," said Special Agent in Charge James T. Hayes, Jr. "The high profile stature of some of the alleged members of these organizations is especially troubling."
ICE said that the suspected leader of the organization, Manuel Geovanny Rodriguez-Perez, was also arrested. Rodriguez-Perez was heard discussing violent acts on intercepted telephone calls, including a threat to "hunt" a customer who was late paying for marijuana, the agency said.
The operation, dubbed "Operation Green Venom," started in July 2008 and used more than 20 separate wiretaps to infiltrate the crews suspected of running the operation.
The operation also targeted alleged "brokers" who controlled the movement of drugs from Florida to New York and the drivers who transported them.
Arrests were made and search warrants were executed in New York, New Jersey and Florida.
Law enforcement has seized nearly $2 million in proceeds from marijuana sales and more than 225 pounds of the drug since July 2008, ICE said.
FOLLOW THIS TOPIC