STORY HIGHLIGHTS
Lisa Bloom was an anchor on Court TV
She worked for nine years in the law firm of her mother, Gloria Allred
She has opened up her own law firm in Woodland Hills, outside Los Angeles
Clients have included Michael Lohan and Michaele Salahi
Los Angeles, California (CNN) -- Lisa Bloom is a lawyer, and she plays one on TV. She's as comfortable in the courtroom as she is in the green room.
And so, Bloom left her Court TV anchor's chair last year and established a Los Angeles practice far from the glitz of Hollywood.
"I wanted to get back into the fray," she said.
The gray stucco Bloom Law Building hunkers close to the Ventura Freeway in the San Fernando Valley, across the street from the Woodland Hills post office. It's a tough commute to Los Angeles' courthouses and studios, but a short hop to Bloom's hilltop home.
With a staff of eight, an iPad, a smartphone and a coffee shop on every other block, Bloom says she has everything she needs here for a practice that blends litigation, attorney referrals, television appearances and media spin control. Besides, she owns the building.
Bloom, 49, learned the ropes from one of the most media savvy lawyers around. She is the daughter of famed feminist attorney Gloria Allred, and after graduating from the University of California, Los Angeles and Yale Law School, she practiced for several years as an associate in Allred's Los Angeles firm. Now Bloom's own daughter is considering law school.
Most of her clients are regular folks with civil rights, personal injury and criminal cases. But Bloom is instantly recognizable from the years spent on Court TV and programming that's now called "In Session" on CNN's sister network truTV. She still provides legal analysis for CBS and Dr. Phil, and she dissects celebrity cases for "The Insider."
"People come to me because they see me on TV," Bloom said. On a summer morning, a man shouted from across a strip mall parking lot. "Are you Lisa Bloom? I like what you do on CNN," he said. "I'm a former police officer, keep up the good work," he added with a wave.
Her roster of clients is growing, but the famous ones come and go as crises wax and wane.
She signed Michael Lohan, estranged father of actress Lindsay Lohan, and worked at rehabbing his image. She cast him as a concerned father during his daughter's legal meltdown.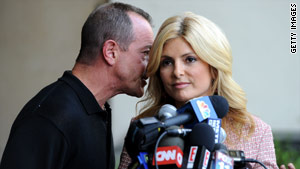 Lisa Bloom advised Michael Lohan during his daughter Lindsay's recent legal troubles.
But they parted ways the day before Lindsay's latest court appearance. Bloom said she could not disclose why, adding that they remain friends.
"Michael Lohan is a guy I met a couple of years ago, volunteering in a soup kitchen in New York City," Bloom said in August. "I interviewed him when I filled in for Larry King. He admitted to everything and said he wanted to save Lindsay," she said, adding that Lohan believes that prescription drugs are the root of his daughter's problems.
"I don't think he loses the right to care for his daughter because he's made some mistakes," Bloom said.
"Representation of clients is not indefinite," she added last week. "I don't consider my conclusion of representation of Michael Lohan a 'down' at all, and I continue to befriend him and support him 100 percent."
Bloom has no problem representing people the public doesn't like. "Attorneys don't help people who are 100 percent angels," she said. "Those people don't need attorneys."
Enter Michaele and Tareq Salahi. Call them party crashers at your own peril.
The couple managed to attend the Obama administration's first state dinner even though the White House said they weren't on the guest list. An uproar ensued, making them minor celebrities.
Michaele Salahi appears on Bravo's reality show "The Real Housewives of D.C.," which has aired footage of their arrival at the party in a limousine, with what appears to be a police escort.
People come to me because they see me on TV.
--Lisa Bloom, attorney
Bloom said she fired off a warning letter last week to the cast of "The Real Housewives of D.C.," advising them she considers it defamatory to call the Salahis "party crashers."
"The Salahis have never been charged with a crime," Bloom told CNN. "They didn't even steal a fork. They didn't have a false ID. They didn't scale a wall."
During the summer, Michaele Salahi appeared on "The View" to promote her reality show. Instead, questioning turned to the state dinner, and host Sherri Shepherd told her on air that she belonged in jail. Afterward, Salahi tearfully told a producer that another host, Whoopi Goldberg, had come up behind her and grabbed her arm.
Goldberg later exploded in a tirade of backstage f-bombs, Bloom said. Goldberg admitted the next day on The View that she'd had "choice words" for Salahi backstage and video of the incident shows Goldberg touching Salahi on the back during the show.
Bloom wrote a letter demanding an on-air apology and got a lukewarm one.
She says she's representing the Salahis without charge because they've gotten bad advice and have been portrayed inaccurately in the media. "The hatred for them is unbelievable," she said, adding that some of it has rubbed off on her.
New clients: "Double Exposure" reality stars Markus Klinko and Indrani, the A-list photographers who were witnesses in the marriage fraud trial of Mexican soap star Fernanda Romero. The case ended in a mistrial. She continues to deny the charges.
Personal: Bloom is a vegetarian and runs marathons. She has a book coming out in Spring 2011, "Think: A Girls' Guide to Staying Smart in a Dumbed Down World," to be published by Vanguard. She also has two television shows in development.
Quote: "People get eaten alive if they're not well represented in the middle of a media firestorm."
FOLLOW THIS TOPIC