STORY HIGHLIGHTS
Blair Berk's client roster is a who's who of Hollywood
She is a Harvard Law School grad; Hot client at the moment is Mel Gibson
Berk handed off the Linday Lohan case to Shawn Chapman Holley
Clients include Leonard DiCaprio, Reese Witherspoon, Heather Locklear and Halle Berry
Los Angeles, California (CNN) -- A heavy wooden door, a polished brass lion's head in the center, stands out amidst the glass, chrome, and neon of the Sunset Strip.
Inside the vine-covered building are rich rugs, plush club chairs, gleaming wood paneling and an elegant chandelier. The law office of Blair Berk is serious and comforting, like an Ivy League club.
Celebrities flock to Blair's lair when they are in trouble and want to keep it on the down low.
Whether it's a scuffle with the paparazzi (Gerard Butler, Kanye West), an assault at Disneyland (Reese Witherspoon), a stalking victim (Ryan Seacrest) or a DUI arrest (Heather Locklear, Kiefer Sutherland, Queen Latifah and, for a while, Lindsay Lohan), Berk can vaporize a celebrity's sticky legal situation before it goes viral.
There are a few exceptions, of course. But even with the summer-long drama of Mel Gibson and taped rants alleged to be his, Berk managed to turn the tables. She convinced authorities to open an extortion probe into Gibson's accuser even as they looked into domestic violence allegations against her client.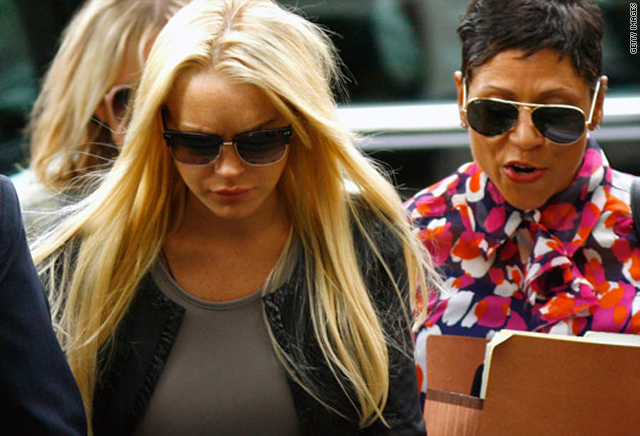 Lawyers to the stars: Test your knowlege
She is such a serious player, that no Hollywood lawyer will say a bad word about her. "Blair Berk is a very good lawyer," several said, in those precise words.
Follow CNN.com's Lawyers to the Stars series
"Blair's my girl," attorney Shawn Chapman Holley said. Berk referred Lindsay Lohan to Holley when Lohan violated the terms of Berk's carefully-crafted plea deal in two 2007 DUI cases. "Blair is one of the top criminal attorneys in L.A., and she's also a great human being," said Holley, whose practice also caters to some of Hollywood's most visible stars.
Berk is all business, carefully measuring her words. It takes her a while to warm up to strangers and she is particularly leery of journalists. But anyone breaking through and winning her trust is rewarded by Berk's warmth, empathy, keen wit -- and a treasure trove of great quotes and insights.
A whip-smart Harvard Law School grad with a hint of the South in her voice, Berk prefers to work under the radar. She will engage with the media, reluctantly, but sees her role as the debunker of bad information.
"In my 20 years of practice, I have never once found it in my client's best interest to have media coverage of their criminal case," Berk said. She considers lawyers who bask in a client's reflected fame to be "cringe-inducing."
As a result, Berk bristles at being called a "celebrity lawyer," even if her client roster is the envy of Hollywood's legal community. "I am a criminal defense attorney," she states.
Just like her dad. Blair Bernholz grew up in Chapel Hill, North Carolina, where her father was a top criminal defense attorney. Her mother, also a lawyer, represented students at the University of North Carolina.
"I really am a student of human nature because of how I was raised," she said. "I deeply appreciate human flaws."
Like most of her colleagues, Berk didn't set out to become a lawyer to the stars.
A large Los Angeles firm recruited her from Harvard in 1990 and assigned her to handle entertainment cases. Los Angeles is a company town, she explained, and the company is the entertainment industry. "If it was Washington, I would have defended congressmen. If it was Detroit, it would have been car executives," Berk said.
"At first, I thought it would be a lark for a year or two."
I deeply appreciate human flaws.
--Blair Berk, attorney
Her first assignment was to defend Ozzy Osbourne, whose song lyrics were being blamed in a civil suit following the suicide of a Georgia teen. Berk listened to the tape, realized it had been remixed by the record company and got the case against Osbourne thrown out before trial.
She dispatched a couple of other celebrity cases without fanfare. And when her mentor at the firm, Barry Tarlow, decided to branch out on his own, he invited her to come along, promising to make her a partner. Berk jumped at the chance.
When a celebrity faces criminal charges, the stakes are high, Berk said. The decisions a lawyer makes can affect an entire franchise.
She admires her client, Kiefer Sutherland, for what she considers his "selfless" decision to dispose of his DUI case quickly and spend 48 days in jail so as not to disrupt production of his hit series "24."
"Kiefer felt a responsibility to his show, and the hundreds of people that were employed, to resolve his case quickly and in a way that protected their jobs," Berk said. She said Sutherland spent more time in jail that he otherwise would have.
"Those are the choices clients face sometimes, and feel they should make," she said. Because she is not star struck, Berk can keep a cool head and give objective advice.
"I come onto a case in the midst of a crisis and I have absolutely no interest in having a relationship with my client," she said. "I'm not interested in making a movie with them. I have no agenda. If I wanted to be a movie star, I'd be a movie star."
Clients: Kiefer Sutherland, Heather Locklear, Mel Gibson, Leonardo DiCaprio, Mackenzie Phillips, Ozzy Osbourne, Halle Berry, Reese Witherspoon, Ryan Seacrest, Lindsay Lohan and Queen Latifah, to name a few.
Personal: Berk is married to a writer-producer and has a daughter. She is test-driving an electric Mini-Cooper.
Quote: "I think in this celebrity-obsessed culture we lose sight of how human and vulnerable we all are when we're in crisis. It must be very daunting to be someone who has fame but doesn't have someone to trust."
FOLLOW THIS TOPIC