STORY HIGHLIGHTS
Judge sets bail at $1 million for each
Authorities said the pair had links to white supremacists
The suspects were arrested at an Arizona campground
McCluskey and Welch had been on the run since the end of July
(CNN) -- An Arizona prison escapee and his alleged accomplice appeared in court Friday afternoon after a tip from an observant forest service staffer led to the pair's arrests, ending a three-week manhunt.
An Apache County judge read a lengthy list of felony charges to a quiet John McCluskey, 45, who was wearing an orange-and-white striped jail uniform and was flanked by sheriff's deputies. He faces three counts of kidnapping, two counts of escape in the second degree, two counts of armed robbery, two counts of aggravated assault with a dangerous/deadly weapon and two counts of misconduct involving weapons.
McCluskey's brief, initial court appearance was immediately followed by one for Casslyn Mae Welch, 44, who faces similar but fewer charges. Welch sat before the judge in a bright green uniform, barely audible in the virtually empty courtroom.
Bail was set at $1 million for each, and the next set of hearings was scheduled for August 27.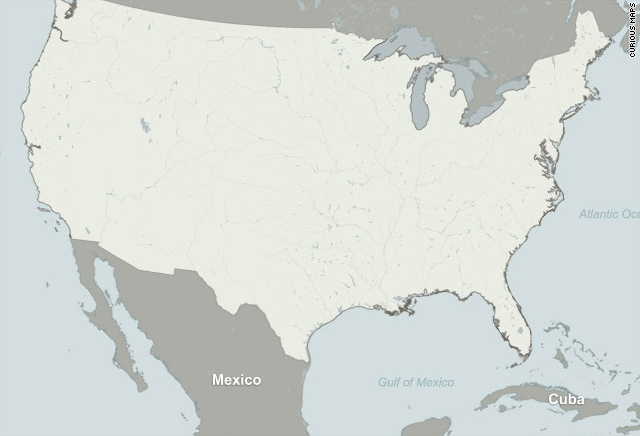 Interactive: Fugitive couple on the run

Video: Prison escapee found
McCluskey and Welch were arrested late Thursday at a campground on the edge of Apache and Sitgreaves National Forests in Springerville, Arizona, U.S. Marshal David Gonzales said Friday.
They have been linked to a supremacist group, Gonzales said. Welch, who allegedly helped McCluskey escape, had agreed to be a police informant but failed to stick to her agreement, Gonzales said.
A forest service employee noticed an unattended fire at a campsite and spotted a suspicious car backed into some trees, authorities said. The U.S. Forest Service is not identifying the employee, said Apache County Sheriff's Deputy Brannon Eager.
A license plate check determined it matched the description of one recently stolen in New Mexico, near where a couple was murdered.
McCluskey and Welch are suspected in the killings of the couple, whose bodies were found in their burned camper this month, according to authorities.
A SWAT team from the Apache County Sheriff's Department was called to the campground site, where they arrested McCluskey and Welch, Gonzales said.
"Once they felt they had the opportunity, they rushed in very quickly ... so they couldn't get to their weapons," Gonzales said.
Authorities said Welch attempted to pull out a gun tucked in the small of her back, but SWAT members were able to stop her before the weapon was fired.
McCluskey was lying down outside a dome tent and said later he should have fired at the deputies and the park ranger, Gonzales said.
"We were convinced that this would go down in a bloody shootout," Gonzales said of how law enforcement officials had anticipated the apprehension of the couple would take place.
Apache County Sheriff Joe Dedman called the forest service staffer a "true hero."
"He was out there doing his job," Dedman said at morning news conference.
McCluskey, 45, was serving a 15-year sentence for attempted second-degree murder and other charges when he and fellow convicts Tracy Province and Daniel Renwick broke out of the prison July 30, allegedly with Welch's help.
Province and Renwick are already in custody.
Welch, who was on the visitation list for one of the inmates, threw cutting tools over a prison fence to help the men escape, corrections officials said earlier this month.
The hunt for McCluskey and Welch ranged from the Southwest to western Montana, and along the border with Canada, marshals said.
Renwick, 36, was captured August 1 in a shootout with police in Rifle, Colorado. He was serving 22 years for second-degree murder when he escaped.
Province, 42, was caught August 9 in Meeteetse, Wyoming, near Yellowstone National Park after authorities were notified by a local resident who sat and talked with Province a day earlier on the steps of a church in town. He was serving a life sentence for murder and armed robbery.
Renwick remains in the Garfield County, Colorado, jail on charges of attempted first-degree murder and eluding police, the U.S. Marshals Service said Sunday.
Authorities are working to coordinate the transport of Province back to Arizona from Wyoming -- expected to occur within the next month, the marshals service said.
Last week, a warden and a security official resigned their posts at the Arizona state prison where the three inmates escaped, a spokesman for the private company that runs the facility said Sunday.
CNN's Ninette Sosa and Melanie Whitley contributed to this report.
FOLLOW THIS TOPIC