Defense officials investigated for child porn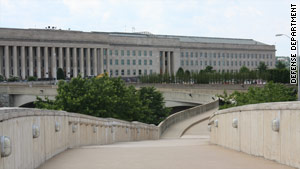 A report says defense workers' use of pornography put the Defense Department at risk of blackmail, bribery and threats.
STORY HIGHLIGHTS
Cases involve several dozen workers with high security clearance
Some suspected of using work computers to access porn websites
Report says actions put military and national security at risk
Washington (CNN) -- Several dozen current, former and contracted employees of the U.S. Defense Department may have put national security at risk by accessing and purchasing child pornography, government documents showed Friday.
Several of the people identified in a series of reports released by the Defense Department were listed as having top secret or higher security clearance. They worked for groups within the department such as the National Security Agency and the National Reconnaissance Office, two of the country's top intelligence agencies.
Some employees are suspected of having used their work computers to view pornographic websites.
News of the investigations, which span several years, was reported by the Boston Globe on Friday.
"Child pornography is illegal and subscribers of commercial child pornography that are associated with the DoD put the DoD, the military and national security at risk by compromising computer systems, military installations and security clearances to name a few," read one report from the Defense Criminal Investigative Service dated October 2008.
The report continued: "Additionally, it puts the DoD at risk of blackmail, bribery, and threats, especially since these individuals typically have access to military installations."
Gary Comoford, a Department of Defense inspector general official, declined to comment on the cases.
Some employees involved in the investigation have pleaded guilty to charges of child pornography, but other inquiries were dropped or are still open. One case against a Defense Department contractor who reportedly admitted to having viewed pornographic material of children was dropped "due to a lack of resources," according to one of the reports from 2009.
CNN's Adam Levine contributed to this report.
FOLLOW THIS TOPIC