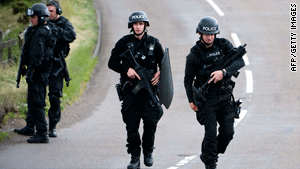 Armed police officers search for Raoul Thomas Moat in Rothbury, England, on Tuesday.
STORY HIGHLIGHTS
NEW: Victim's father asks the suspect to turn himself in
The search for the suspected killer continues Wednesday
Police have recovered a letter written by the suspect to his ex-girlfriend
Two shooting victims remain in critical but stable condition
(CNN) -- Authorities continued to search Wednesday for a man who police say shot his ex-girlfriend, fatally shot her new boyfriend and shot a police officer in a northern England town over the weekend.
Poor weather conditions limited an aerial search overnight, but armed officers are scouring the area around Rothbury in Northumberland, Northumbria police said Wednesday.
Police believe the suspect, Raoul Thomas Moat, is still in the area.
"We were aware a search of this open farmland area with many abandoned buildings and dense areas of woodland posed a particular challenge," said Temporary Deputy Chief Constable Jim Campbell. "Despite a large-scale search conducted by specialist teams, we have not yet located Moat."
The father of Samantha Stobbart, Moat's ex-girlfriend, on Wednesday urged the suspect to turn himself in.
"Raoul, son, please, this has to stop. We don't want anyone else hurt," Paul Stobbart said in a video released by police.
He appealed to Moat to think about the legacy he would leave for the daughter he fathered with Samantha Stobbart: "You know I won't lie if she asks about her dad, how good a dad you have been and how bad it has turned out."
On Wednesday afternoon, Detective Chief Superintendent Neil Adamson said Moat had been living in a tent in a secluded spot near Rothbury. Police recovered the tent and an eight-page handwritten letter, purportedly from Moat to his ex-girlfriend.
The letter contains personal messages for her, and in it Moat asserts that her boyfriend is a police officer. Police say that's not true.
Moat has been on the run since the shootings Saturday.
"Police do not believe [Moat] to be a general threat to the public at large, he has specific grievances against certain individuals and groups, however, the advice remains the same, if you see him do not approach him but call the police straightaway," authorities said in a statement.
The five-day, large-scale search operation for the 37-year-old man police call "armed and dangerous" has involved a number of police units across Northumbria, including specialist search teams, armed response units, helicopters and dog handlers, according to police officials.
A public tip led authorities to a black Lexus sedan believed to be connected to Moat. Adamson said the damaged car was unoccupied when found.
In a public address, Adamson had what he called a personal message for the suspected killer:
"Don't leave your children with the wrong memories of their father, you still have a future. Give yourself up now."
The two people injured in the shootings remain in the hospital in what authorities described as critical but stable condition.
FOLLOW THIS TOPIC