Report: Harvard prof, police sergeant share blame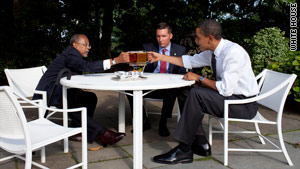 President Obama held a "beer summit" with Harvard professor Henry Louis Gates Jr. and police Sgt. James Crowley.
STORY HIGHLIGHTS
Report says police sergeant and professor both made mistakes
Report looked in to last year's arrest of Harvard professor at his home
The fallout from the arrest led to "Beer Summit" at the White House
(CNN) -- A white police sergeant and a black Harvard University professor both made mistakes in a confrontation last year that led to an arrest and a national debate on racial profiling, a report said.
The report, released Wednesday, details the July 16, 2009, arrest of Harvard professor Henry Louis Gates Jr. by Cambridge, Massachusetts, police Sgt. James Crowley. President Obama jumped into the debate over the arrest, eventually holding a "beer summit" at the White House with the officer and academic.
Crowley arrested Gates when the officer responded to a call of a possible break-in at a Cambridge residence, which turned out to be Gates' house.
Gates was charged with disorderly conduct for allegedly yelling at the officer and protesting his actions. But Gates said he never raised his voice and accused Crowley of racial profiling. Charges against the professor later were dropped.
The report, conducted by the Cambridge Review Committee, said the situation quickly spiraled out of control.
"Seconds after Crowley and Gates encountered each other, the situation deteriorated rapidly, according to both men. Within six minutes, Crowley had arrested Gates for disorderly conduct and placed him in handcuffs at his own home," the report said.
Mistakes by both men contributed to the outcome, the committee found.
"Sergeant Crowley and Professor Gates each missed opportunities to 'ratchet down' the situation and end it peacefully," the report said. "The Committee believes that the incident was sparked by misunderstanding and failed communications between the two men."
The committee was the idea of Cambridge's police commissioner and was made up of experts in law enforcement and race.
But even after the national debate over the arrest, both men told the committee they wouldn't have done much differently.
Crowley said he felt he had no choice but to arrest Gates, the report said.
Gates said in retrospect he would not have done much differently except he would not have left his house and followed Crowley after the officer was trying to leave the scene.
"Sergeant Crowley and Professor Gates missed opportunities to lower the temperature of their encounter and communicate clearly with each other, and the results were unfortunate for everyone concerned. They share responsibility for the outcome," the report concluded.
CNN's Jennifer Rizzo contributed to this report.
FOLLOW THIS TOPIC