Arubans urge Holloway's father to delay search during Peruvian probe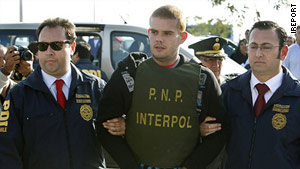 Joran van der Sloot, a suspect in Natalee Holloway's death, is in custody accused of killing a woman in Peru.
STORY HIGHLIGHTS
Natalee Holloway's father wants to search swamp area for daughter's remains
Authorities want to wait until Peruvian authorities give more information
Aruban investigators will not question van der Sloot until after Peruvians
(CNN) -- Aruban authorities are urging Natalee Holloway's father, Dave Holloway, to delay volunteer search efforts in her disappearance until police get better information on the case from Peruvian investigators who have spoken to Joran van der Sloot, prosecutor Peter Blanken said.
Police do not want their investigation jeopardized or possible evidence contaminated in the Bubali Bird Sanctuary, a swamp area where Joran once said he dumped Holloway's body, Blanken said. Aruban authorities wish to search a more focused area once they receive more information from van der Sloot and his laptop, which may include files linking him to the Holloway disappearance.
Earlier, Blanken said investigators from Aruba would not be able to question van der Sloot until Peruvian authorities finish their probe of the May 30 slaying of Stephany Flores. The formalities of Peruvian law also will determine the time frame, the prosecutor said.
Aruban and Peruvian authorities agreed to "help each other" in the Flores case.

Video: Inside van der Sloot's cell
Van der Sloot, a 22-year-old Dutch citizen, was arrested twice in Aruba in connection with Holloway's disappearance but released for lack of evidence. Aruba is part of the Netherlands.
He said he was in Peru for a poker tournament and met Flores while gambling. Police have said they think van der Sloot killed Flores to steal money she won.
Van der Sloot told authorities he attacked Flores on May 30 after she read an e-mail on his computer connected with the Holloway case.
FOLLOW THIS TOPIC