STORY HIGHLIGHTS
Police commissioner says surveillance video being examined

Vehicle Identification Number found on potential car bomb vehicle

SUV found in Times Square had propane tanks, gas cans, NYC mayor says

Vendor saw smoke coming from box in car, notified police
New York (CNN) -- Law enforcement officials are examining surveillance video from the Times Square area showing a man changing his shirt around the time of the bomb scare Saturday night, New York's police commissioner said Sunday.
The video "shows a white male in his 40s, in Shubert Alley, looking back in the direction of West 45th Street," Commissioner Ray Kelly told a news conference.
"He also was seen shedding a dark-colored shirt, revealing a red one underneath. He put the darker one into a bag that he was carrying," he said.
The video was captured about a half block from where police said a Nissan Pathfinder containing bomb-making materials was found Saturday evening on West 45th Street in the city's iconic Times Square area.
The police also have a videotape from a Pennsylvania tourist that is being examined, according to Deputy Police Commissioner Paul Browne.
iReport: Were you there? Share pics, videos
Also Sunday, Kelly said an NYPD bomb squad blew open a large gun locker found in the Pathfinder, revealing eight bags of an "unknown substance" and a pressure-cooker-type metal pot containing a "bird's nest of wires and M-88 firecrackers."
Preliminary tests later determined the substance to be "non-explosive grade fertilizer incapable of blowing up," according to Browne.
The gun locker was one of many items found in the rear of the Pathfinder after a T-shirt vendor alerted a nearby police officer to smoke coming out of the vehicle.

Video: Bomb 'could have caused fireball'

Video: Tourist evacuates Times Square

Video: 'Time to get the people out of here'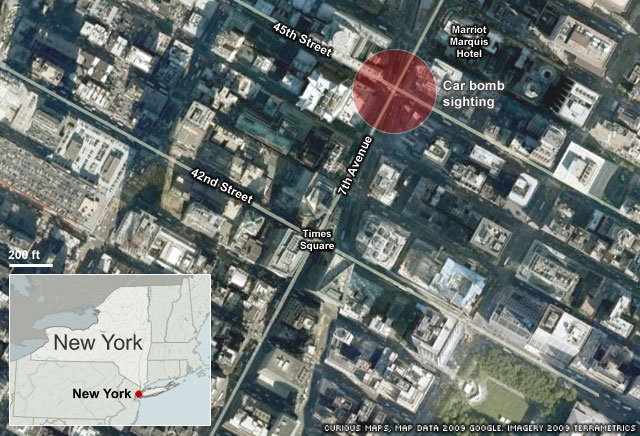 NYC car bomb: What happened?
Officials removed from the SUV three propane tanks weighing between 15 and 17 pounds, Kelly said, comparing them to the kind typically used on backyard barbecues. One of the tanks had more M-88 firecrackers attached to the side, Kelly said, some of which detonated inside the vehicle.
Also found in the vehicle's back seat were two full five-gallon gasoline containers, Kelly said. And between those gasoline containers was a "16-ounce can filled with between 20 and 30 M-88 devices," he said, adding that two clocks on the floor of the vehicle's back seat were connected by wires to the can containing the firecrackers, and possibly to the gun locker as well.
Read more about the discovery of the car bomb
Had the car bomb detonated, Kelly said it would have caused casualties and a "significant fireball."
"I'm told the vehicle itself would have at least been cut in half," he said. "You have large numbers of pedestrians in that area, so, yeah, we were lucky that it didn't detonate."
Browne added that the materials found were "capable of producing human casualties and broken windows," but did not have enough force "to take down a structure, in the opinion of NYPD bomb experts."
Officials did not immediately know how the bomb would have been detonated, but Kelly offered a few hints into its design.
"(We believe) the timers would ignite the can of explosives and that would cause the five-gallon cans (of gasoline) to go on fire and then explode the propane tanks and have some effect on that rifle box," Kelly said.
Times Square evacuation captured on iPhone
Meanwhile, Times Square returned to its bustling self Sunday, even as questions remained about the source of the attempted car bombing.
In a purported Pakistani Taliban video that surfaced on the internet Sunday, the group took responsibility for the foiled attack, though Kelly said Sunday afternoon that "we have no evidence to support this claim."
The group, Tehrik-e-Taliban Pakistan, says in the video that the attack was revenge for their leaders killed by American forces, and for U.S. and NATO interference in that part of the world.
Another claim of responsibility e-mailed by an individual to a local New York news station is being investigated, Kelly said.
Kelly called the foiled attack "a sober reminder that New York is clearly a target of people who want to come here and do us harm."
President Obama, speaking from Venice, Louisiana, where he was monitoring a massive oil slick creeping toward the Gulf Coast, promised "to see that justice is done" in the failed car bombing.
"Since last night, my national security teams have been taking every step necessary to ensure that our state and local partners have the full support and cooperation of the federal government," he said. "We're going to do what's necessary to protect the American people, to determine who's behind this potentially deadly act and to see that justice is done."
An earlier version of this article incorrectly stated how New York City Police Commissioner Raymond Kelly characterized a man videotaped near Times Square around the time a car containing explosives was left there. During a Sunday press conference, Kelly described the man but did not specifically identify him as a suspect. On Monday, Kelly clarified that the man was not a suspect but rather someone police wanted to talk with about the incident.
In an advisory sent to local and national law enforcement, the Department of Homeland Security wrote, "There is no information to indicate that this was anything more than a single incident. Additionally, there is no reporting suggesting targeting of other specific locations."
Kelly said following the discovery of the Pathfinder, police officers did a search for secondary devices in the area and found none.
The investigation was focusing on examinations of the Nissan Pathfinder where the attempted homemade bomb was placed. Kelly said the vehicle is being combed for fingerprints, hair, fibers and other evidence that may help identify who was responsible, and hours of surveillance footage in the area were being monitored for possible clues.
Another angle of the investigation involved the license plates found on the vehicle.
Authorities said that the Connecticut license plate on the front of Pathfinder did not belong to that car, but to a pickup truck that was last reported at a junkyard.
Following that lead, police were spotted at an automobile used parts company, Kramer's Used Auto Parts of Stratford, Connecticut.
Kelly said that the plate found on the rear of the Pathfinder was also registered to a different vehicle, which was located in an auto repair shop in Connecticut, where its matching plate was also found.
The Pathfinder's vehicle identification number had been removed from the dashboard, but officials recovered it from another location on the car, a federal law enforcement official told CNN.
Kelly said officials have identified the registered owner of the Pathfinder, but were not yet making his name public.
A New York police official told CNN the owner lives in the Tri-state area of New York, New Jersey and Connecticut.
The lockdown of the popular New York attraction began around 6:30 p.m. Saturday after a T-shirt vendor -- a Vietnam veteran -- saw the SUV, found it suspicious and alerted a mounted police officer.
Officer Wayne Rhatigan peered inside and noticed a box with smoke coming out and smelled gunpowder. Authorities immediately evacuated the area.
Watch police evacuate McDonald's: 'Pack your food up! Let's go!'
Rhatigan, a 19-year NYPD veteran, and vendor Lance Orton were called "heroes" by New York Mayor Michael Bloomberg on Sunday.
"We're very lucky that people like Wayne and ... Lance Orton saw something and did something about it, and that's what we all have to do," Bloomberg said outside Blue Fin restaurant in Times Square, where he later dined with Rhatigan in a show of the safety around the area.
"There are some people around the world that find our freedoms so threatening that they're willing to kill themselves and others to prevent us from enjoying it, but we're not going to let them win," Bloomberg said.
Rhatigan said that after smelling the gunpowder he thought, "Uh oh, this is a little bit more than just a parked car and a cigarette in the ashtray."
He said that despite the potential danger, there wasn't time to be scared as he and other officers sought to set up a perimeter and evacuate passers-by.
"It's what we do, this is our job," Rhatigan, 46, said outside the restaurant.
CNN's Susan Candiotti and Mary Snow contributed to this report.