Judge removed from Ohio serial killings case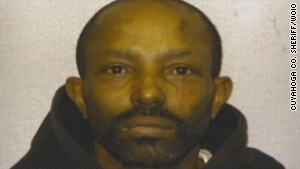 Anthony Sowell is accused in the killings of 11 women. His case will be reassigned to a new judge.
STORY HIGHLIGHTS
Ohio Supreme Court removes Judge Shirley Strickland Saffold from serial killings case

Anthony Sowell faces charges in killings of 11 women found at his Cleveland house

Defense said judge was biased based on comments about client on newspaper's website

Judge has denied posting derogatory comments, admitted daughter did though

(CNN) -- The Ohio Supreme Court has removed a Cleveland judge from a case after attorneys for serial killer suspect Anthony Sowell accused her of bias as a result of postings about their client on a newspaper website.
Judge Shirley Strickland Saffold was removed from the case Thursday, and it has been turned over to the Cuyahoga County Common Pleas Court for reassignment to another judge.
Sowell faces murder, attempted murder, rape and attempted rape charges in connection with the killings of 11 women and attacks on five other women. He was arrested after the bodies of the slain women were found at his house last fall, and he has pleaded not guilty by reason of insanity.
Sowell's attorneys, John P. Parker and Rufus Sims, filed an affidavit Monday seeking Saffold's disqualification, according to court documents.
They alleged that Saffold had "improper," ex parte conversations with the former judge on the case, Timothy McGinty, and a newspaper reporter from The Cleveland Plain Dealer. They also said that e-mails from the judge's personal and office accounts allegedly were sources of information for a March 26 Plain Dealer article and that the judge has a financial interest in the case because she and her daughter have sued the newspaper over the apparent use of her e-mails as sourcing for that article.
The defense said someone using the moniker "lawmiss" posted derogatory comments on the newspaper's website about attorney Sims and Sowell.
Those comments were linked to Saffold's account, but she has denied posting them and has said her court computer was not used to make them.
Saffold could not be reached for comment Thursday.
However, she filed a response to the defense, insisting she harbors no bias in the case and denying she had any improper conversations about it with others. She also said her civil suit against the newspaper has nothing to do with the case against the defendant.
Still, acting Chief Justice Paul E. Pfeifer found the concerns over Saffold's e-mail accounts and the public postings particularly troubling.
"Although Judge Saffold denied that she was the source of these online comments, she has admitted that the comments originated from the online account shared by her and members of her family and that the comments were posted by her daughter," Pfeifer said in his ruling.
He said the "unfortunate postings" impede Saffold's ability to resolve legal issues in the case that would appear to be objective and fair.
While there's no evidence of Saffold's actual bias, Pfeifer said, "disqualification is appropriate where the public's confidence in the integrity of the judicial system is at stake."