STORY HIGHLIGHTS
Abbie Dorn, mother of triplets, suffered severe brain damage during their birth
Her parents, who care for her, are waging a court fight on her behalf for visitation rights
Dorn's ex-husband, who is raising the children, doesn't believe they should see her
A trial is set to begin on May 13 in Los Angeles County Superior Court
(CNN) -- Abbie Dorn always wanted children, and in June 2006 she got her wish -- triplets. But during a difficult birth she suffered severe brain damage that took away her chance to raise them.
Now, her parents and former husband are locked in a legal battle over whether Dorn is capable of interacting with her children, and whether they should visit her.
On Tuesday, a judge in Los Angeles County Superior Court ruled that Abbie Dorn's parents have the right to fight for visitation rights on her behalf.
The ruling clears the way for a trial, scheduled for May 13. No matter who prevails, the case is likely to lead to years of appeals that could result in a legal landmark affecting the rights of mentally incapacitated parents.
Dorn, 34, last had contact with triplets Esti, Reuvi and Yossi in October 2007, when they were toddlers. They will turn 4 on June 20.
Paul and Susan Cohen, a physician and former nurse, are conservators of Abbie Dorn's estate and care for their daughter full-time at their home in Myrtle Beach, South Carolina. A $7.8 million medical malpractice settlement funds her treatment.
Her former husband, Daniel Dorn, is raising the triplets in Los Angeles, California.
Susan Cohen says her daughter has made considerable progress after intensive rehabilitation and now communicates by blinking her eyes.
"One slow blink means 'yes.' No response means 'no,'" said Cohen.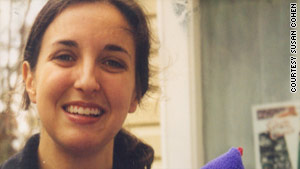 Abbie Dorn was athletic, happily married and full of life before her brain injury, her parents say.
Daniel Dorn maintains that his former wife remains in a vegetative state. She is more than physically disabled, he contends in court papers, she is "neurologically incapacitated" and legally incompetent to make decisions involving her children.
Abbie and Dan Dorn, both devout Orthodox Jews, were in their early 20s when they met in Atlanta, Georgia, and embarked on a whirlwind romance. They married in August 2002 after dating for six months. Dan Dorn took a job with his father in Los Angeles, and his wife moved to Southern California with him.
Three years later, in the fall of 2005, Abbie became pregnant.
"They were very much in love," recalled her mother. But what happened to Abbie when her triplets were born would tear the young family apart.
According to her parents and their lawyers, during the delivery Abbie began bleeding severely and went into cardiac arrest, which deprived her brain of oxygen. Medical personnel were not able to resuscitate her for nearly 20 minutes, according to the Cohens and their lawyers.
After Abbie Dorn was revived, her condition initially seemed to improve. Her organs were functioning. Her blood was clotting. But over the next three days, she took a turn for the worse
With his wife's parents overseeing her medical care, Dan Dorn found himself a young father raising triplets. He believed Abbie's prospects of recovery were faint. One year to the day after the triplets were born, Dan notified the Cohens that he was ready to move on.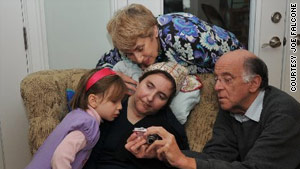 In this photo, with her parents and niece, Esti, Abbie Dorn seems aware of what is happening around her.
"I still love Abbie very much, but I am trying to move on and have been and will continue to parent our children, who are happy and are thriving," Dan Dorn told CNN in an e-mail.
At Dan's request, the Cohens initiated divorce proceedings on Abbie's behalf. The divorce was finalized in the fall of 2008.
Dorn and the Cohens continue to disagree over whether or not Abbie is making progress in her treatment. They also cannot agree on whether she has the ability to interact with her children.
Dan Dorn maintains in his legal papers that it is not in his children's best interest to see their mother now.
"The neurosurgeons told me in 2007 that she would not recover. I have asked for an updated neurological report," he told CNN by e-mail.
The judge granted that request at Tuesday's hearing.
CNN has obtained the 2007 medical report in which neurologist Richard Helvie described Abbie Dorn's condition as "permanent." Observing a list of mental functions, Helvie noted that she was "so impaired as to be incapable of being assessed" for most of the evaluation.
Abbie Dorn's parents and therapists tell a different story about her recovery.
"Abbie has made dramatic progress since 2008," said her mental health counselor, Dr. Robert McCarthy.
McCarthy is part of a $33,000-a-month rehabilitation program designed by Susan Cohen. He is treating Abbie using a method called neurofeedback, which trains the brain to function more efficiently.
"With the introduction of neurofeedback, she has become increasingly alert, can voluntarily bounce her legs up and down, has regained movement in her arms, and can even verbally respond 'yes' or 'no,'" McCarthy said.
Court battles like the one between Dorn and the Cohens are rare but not without precedent.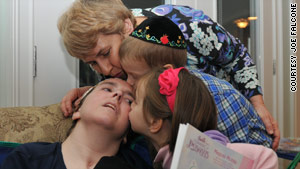 Abbie Dorn is kissed by her mother, Susan Cohen, and nephew and niece, Mani and Esti.
In 1979, the California Supreme Court ruled in favor of a quadriplegic father, William T. Carney, stating that physically disabled parents cannot be deprived of their children because of their disability.
But there are key differences between these cases: Carney's case dealt with custody of a physically disabled parent, while the Dorns' involves visitation by a mentally incapacitated parent.
Dan Dorn contends in court documents that the legal drama is more about what the Cohens want rather than what Abbie might have wanted for her children.
"Abbie and I were happily married and very much in love. She would want the best for me and our children," he told CNN in an e-mail.
Paul Cohen visits the triplets every three months. The Cohens have asked Dorn to send videos of the children and allow the family to see each other via webcam but so far, they say, that hasn't happened.
"There's no reason for the triplets not to have a relationship with their mother, whatever that relationship may be," said Lisa Helfend Meyer, the Cohens' attorney.
Dorn's attorney, Vicki J. Greene, responded that he "wants to be the one to parent the children and tell them at an appropriate age the proper details of their life. From our perspective, he gets to make the decisions. He's the father."
Dorn, who is seeking child support from Abbie's estate, stated in court documents that he has not told the children what happened to their mother because they are too young to understand. He says he will consider taking the children to see Abbie when they are older -- if he receives medical evidence that she will be able to communicate with them.
The Cohens argue that if the children are properly prepared for the situation, the experience will not be detrimental. They have requested that the children see a psychologist to help prepare them.
For now, the Cohens will continue to hold on to hope for their daughter.
"I can't let her lose her children," Susan Cohen said.