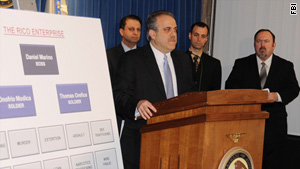 Among the defendants in a federal indictment unsealed Tuesday was 43-year-old Suzanne Porcelli.
STORY HIGHLIGHTS
Suzanne Porcelli is only female among 14 accused in indictment unsealed Tuesday
Porcelli, 43, faces four counts related to underaged prostitution ring that used Craigslist
Charges in 23-count indictment range from racketeering, murder, sex trafficking of a minor
(CNN) -- The mafia has traditionally maintained respect for women and children, but allegations the Gambino crime family was involved in underage prostitution may mean the last vestiges of mob reverence are gone, authorities said.
To some observers, seeing a woman among the defendants in a federal indictment, unsealed Tuesday, was just as shocking as charges the syndicate was peddling teens to customers in New Jersey and three New York boroughs.
Suzanne Porcelli, 43, was the only female among 14 reputed Gambino crime family members and associates indicted on charges including racketeering, murder, sex trafficking of a minor, extortion and drug trafficking.
Thirteen defendants, including Porcelli, entered not guilty pleas Tuesday, according to the U.S. attorney's office, and they are expected to appear Wednesday before a federal judge who has been appointed to the case.
"It's extremely rare to grab up a woman in an organized crime case because it's a male-oriented criminal society," said FBI special agent Richard Kolko. "It's certainly unusual, but as you can see in the indictment, she allegedly committed a serious crime and will face those charges."
Fifteen FBI agents showed up at the door of the single mother's home in Brooklyn to arrest her at 6 a.m. Tuesday, said her lawyer, Vincent Romano. She was released on bond.
Porcelli's name appears only six times in the 60-page document detailing a litany of accusations against suspected members and associates of the Gambino crime family. The list runs the gamut from murder to OxyContin trafficking to defrauding high-end restaurants with inflated invoices for meat orders.
Read about the charges against the 14 accused
Porcelli is charged with four counts in a sex trafficking ring involving some underaged girls, and not for charges of murder or racketeering-related activity.

Video: Gambino crime family under fire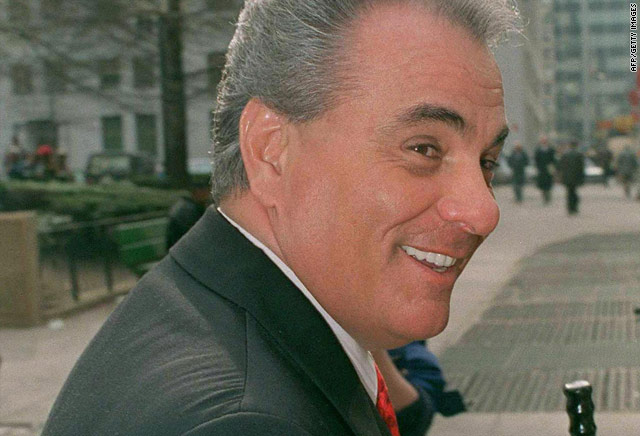 Timeline: Gambino crime family
"It's a very unfortunate situation for her. Obviously she's not a member or associate of any crime family. She's charged in a very limited conduct in the indictment," Romano said. "I'd like to get discovery and see what the evidence is against her, who's allegedly cooperating with the government against her to see what they have to say and assess the situation."
However slight her alleged role, having a woman caught up in an underage prostitution ring with the Gambino crime family marks a turn for the worse in organized crime, said Joe Coffey, a former commanding officer of the New York Police Department's organized crime unit.
"The mob as we know it historically holds very few things sacred, but they do hold women and children sacred," said Coffey.
"Women have been girlfriends and wives and mothers, but never has there been any case where a female becomes an influential person in mob operations, because it's seen as men's work, something that women and children should be protected from and kept out of."
Porcelli's name appears alongside the likes of 69-year-old Daniel Marino, a longtime member and current Gambino family boss, according to court documents. Porcelli is also accused of working with alleged Gambino family soldier Thomas Orefice, who is accused of a "staggering crime spree" related to most of the criminal enterprises in the indictment.
Porcelli faces four charges, including sex trafficking and sex trafficking of a minor, for her alleged role in an interstate sex trafficking ring in 2008 and 2009.
Orefice is accused of devising and executing the business plan for the prostitution ring, in which underage girls, including at least one 15-year-old, were offered up to paying customers in Manhattan, Brooklyn, New Jersey and Staten Island, according to court documents.
The defendants advertised their service on Craigslist and other websites, and had customers call a phone line operated by Porcelli to arrange appointments, the documents state.
"Orefice and the other defendants also made the young women available for sex to the players at regular poker games that Orefice and his crew ran."
Porcelli faces a potential life sentence on one count of sex trafficking of a minor.
Sex and drugs are nothing new to organized crime, says Coffey, but their expanding prominence within day-to-day operations reflects the weakening mores of the mafia and society.
"The mafia, as we know it today, is no longer what it was. Although they've always been ruthless, greedy, unlawful, murderous, they always had a certain amount of respect, i.e., for women and children," he said.
A law enforcement crackdown in the 1970s and 1980s targeting organized crime's leadership left a power vacuum that has been filled by leaders with a greater appetite for sex and drugs, he said.
"The mob, as we see it today, has lost all respect, lost all the historical culture that it was intended to have since 1931, and that's because they're becoming their own best customers within the drug culture."