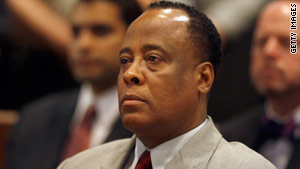 Michael Jackson's father plans to sue Dr. Conrad Murray, above, in connection with the pop star's death.
STORY HIGHLIGHTS
Attorney for Michael Jackson's father says he mailed notice of lawsuit
Suit will alleged that had help been summoned earlier, pop star could have survived
Jackson's father plans to sue Dr. Conrad Murray for wrongful death
Murray has been charged with involuntary manslaughter in Jackson's death
Los Angeles, California (CNN) -- Medical records showed that Michael Jackson's heart beat briefly at a hospital emergency room, but he was "long gone" by then, a lawyer for Jackson's father said.
Joe Jackson's lawyer mailed a notice over the weekend to Dr. Conrad Murray saying the elder Jackson would file a wrongful death lawsuit against him in 90 days, attorney Brian Oxman said.
"The bottom line is, had [paramedics] gotten there earlier and had they been called right away, chances are he could have been revived," Oxman said.
Jackson's father's lawsuit will accuse Murray, the pop star's personal physician, of causing his death by delaying the call for an ambulance, Oxman said.
Oxman said records showed that Jackson was "long gone, 20 to 40 minutes before the paramedics got there."
Jackson, 50, was pronounced dead at UCLA Medical Center two hours after he arrived there by ambulance from his Holmby Hills, California, home.
The Los Angeles coroner concluded that Jackson's death on June 25, 2009, was from "acute propofol intoxication." The autopsy revealed that Jackson's blood had a level of propofol, a powerful anesthesia, equal to that used in major surgery.
Murray has been charged with involuntary manslaughter by acting "without malice" but also "without due caution and circumspection." He was freed on $75,000 bail.

Video: Joe Jackson filing lawsuit
California law requires medical wrongful death lawsuits to be filed within a year of the death, Oxman said. Since a doctor must be given 90 days notice, Saturday's mailing was timed to meet the deadline, he said.
A prosecution report leaked to the media last week included a statement from a witness who said Murray stopped resuscitation efforts on Jackson so he could collect propofol bottles.
Oxman's notice to Murray called that delay "an outrageous departure from the standard of care."
Oxman said the lawsuit will really put "this whole blasted thing together from top to bottom, from top to bottom. It identifies what happened by time, by date and by place."
"There was cardiac activity, electrical impulses, and he did have a cardiac rhythm which they got going through their resuscitation," Oxman said of Jackson. "But he could not sustain it on his own."
A spokeswoman for Murray's criminal defense lawyer said he has not received the notice from Oxman.
"It's like a bucket of water thrown on a man drowning in the ocean," said Miranda Sevcik, a spokeswoman for defense lawyer Ed Chernoff.
The California state medical board will ask a judge to prevent Murray from practicing medicine in California while he is being prosecuted in Jackson's death, according to documents filed last week by California Attorney General Jerry Brown.
Brown said in his filing that Murray, who was the pop star's personal physician, "administered a lethal dose of propofol, as well as other drugs, to Michael Jackson."
"We will argue in court that Murray was reckless in giving Jackson such a dangerous drug and has demonstrated a serious lack of judgment that should prohibit him from practicing medicine," Brown said.
Los Angeles County Judge Keith Schwartz refused a prosecution request to suspend Murray's California medical license as a term of his bail last month, but he did order him not to use any anesthesia on patients.
"I don't want you sedating people," Schwartz told Murray.
Chernoff said nothing has changed since then. Murray has no office or patients in California, he said. Murray resumed his medical practice in Texas and Nevada last fall.
The next hearing date for the criminal case is April 5.