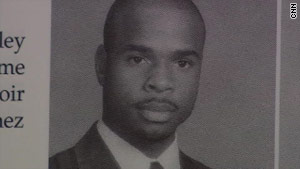 Sharif Mobley, shown in an undated photo, is suspected of belonging to al Qaeda.
STORY HIGHLIGHTS
Senator calls for probe into background check system for nuclear plant workers
Suspected al Qaeda member Sharif Mobley did routine labor at nuclear plants from 2002 to 2008
Mobley is accused of killing security agent while trying to flee a hospital in Sanaa, Yemen
Background checks include criminal, employment histories; psychological assessment
(CNN) -- A U.S. senator is calling for a federal probe into the system of background checks for employees at nuclear plants after learning that a suspected al Qaeda member from New Jersey worked at five such sites.
"We simply cannot tolerate at any time having someone with terrorist ties working at a nuclear plant, period," Sen. Chuck Schumer, a New York Democrat, said in a written statement Saturday.
"It seems like common sense, but clearly we need to tighten up the system."
The FBI said earlier this week that it is investigating Sharif Mobley, a 26-year-old from Buena, New Jersey, as a suspected member of al Qaeda. Mobley also is accused of shooting and killing a security agent and severely injuring another while trying to flee the Republican Hospital in Sanaa, Yemen, last weekend, a law enforcement source said last week.
Mobley's father said Saturday, "My son is no terrorist." He would not comment further.
Mobley worked at nuclear plants operated by PSEG Nuclear for different contractors from 2002 to 2008, doing routine labor such as carrying supplies and assisting with maintenance activities, company spokesman Joe Delmar said Thursday.
The U.S. Nuclear Regulatory Commission said it was working with the FBI to determine whether Mobley had access to any sensitive areas of the nuclear plants where he once worked, spokeswoman Holly Harrington said.
"It's important to note that for him to even be in the plants, he'd have to undergo a background and criminal history check," she said. She said Mobley worked at five plants between 2002 and 2008 in "labor [and] maintenance kind of positions."
Schumer said the Nuclear Regulatory Commission inspector general should conduct an "immediate and thorough review" of its procedures for background checks on new and transfer employees. The senator said the monitoring of current employees needs improvement.
He said the current background checks include an examination of criminal and employment histories, a psychological assessment and behavioral observation.
However, "the NRC delegates the authority to complete background checks, which results in a certain degree of disparity in how checks are carried out, and what information is ultimately covered," Schumer's statement said.
He said the checks are not required to cover such information as past travel and ties with other countries.
Yemeni counterterrorism forces rushed to the scene and captured Mobley, who had barricaded himself in a hospital room, said Mohammed Albasha, a spokesman for the Yemeni Embassy in Washington, on Thursday.
Mobley remains detained in Yemen after the incident at the hospital.
Yemeni authorities detained him and 10 other al Qaeda suspects this month in a "successful security sweep" in Sanaa, the capital, Albasha said. Mobley had been transported to the hospital over the weekend for medical treatment, Albasha said. He would not elaborate.
CNN's Susan Candiotti, Carol Cratty, Jeanne Meserve, Mike M. Ahlers and Mohammed Jamjoom contributed to this report.