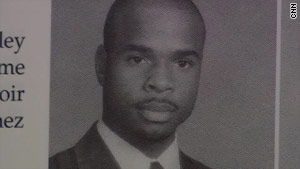 Sharif Mobley, shown in an undated photo, is suspected of belonging to al Qaeda.
STORY HIGHLIGHTS
New Jersey man did routine labor at five nuclear plants from 2002-08
Agencies look into whether he had access to sensitive areas
Suspect accused of fatally shooting security agent in Yemeni hospital
Sources unaware of charges against him in United States
(CNN) -- The U.S. Nuclear Regulatory Commission is working with the FBI to determine whether a New Jersey man suspected of being an al Qaeda member had access to any sensitive areas of the nuclear plants where he once worked, a commission spokeswoman said Friday.
The FBI is investigating Sharif Mobley, a 26-year-old from Buena, New Jersey, said Rich Wolf, a spokesman at the agency's Baltimore, Maryland, office. He wouldn't comment further.
Mobley worked at nuclear plants operated by PSEG Nuclear for different contractors from 2002 to 2008, doing routine labor such as carrying supplies and assisting with maintenance activities, company spokesman Joe Delmar said Thursday.
"We're working with the plants looking into what he might have been doing and when," said Holly Harrington, a spokeswoman for the nuclear commission. "It's important to note that for him to even be in the plants he'd have to undergo a background and criminal history check."
She said Mobley worked at five plants between 2002 and 2008 in "labor [and] maintenance kind of positions."
Three of the plants were in Pennsylvania: Peach Bottom, Limerick and Three Mile Island. The other two were Calvert Cliffs in Maryland and Salem-Hope Creek in New Jersey, she said.
Nuclear plants train workers to detect strange behavior among co-workers, Harrington said, adding, "We have no information that there were any security concerns or incidents related to this individual."
Delmar said PSEG is cooperating with authorities investigating Mobley.
Mobley is accused of shooting and killing a security agent and severely injuring another while trying to flee the Republican Hospital in Sanaa, Yemen, over the weekend, a law enforcement source said Thursday.
Yemeni counterterrorism forces rushed to the scene and captured Mobley, who had barricaded himself in a hospital room, said Mohammed Albasha, a spokesman for the Yemeni Embassy in Washington, on Thursday.
Yemeni authorities detained him and 10 other al Qaeda suspects this month in a "successful security sweep" in Sanaa, the capital, Albasha said.
Mobley had been transported to the hospital over the weekend for medical treatment, Albasha said. He would not elaborate.
The law enforcement source said the FBI has interviewed Mobley's parents.
Another source, a U.S. law enforcement official familiar with the case, said authorities have been aware of Mobley for some time.
Both law enforcement sources said they were unaware of any criminal charges against Mobley in the United States.
CNN's Mike M. Ahlers, Susan Candiotti, Carol Cratty and Jeanne Meserve contributed to this report.