STORY HIGHLIGHTS
NEW: Amanda Knox's family: Appeal to focus on "conclusions not supported by evidence"
472-page report explains how jurors convicted Knox in slaying of roommate Meredith Kercher
Jurors believe Knox stabbed Kercher after Rudy Guede tried to "have his way" with Kercher
Jurors didn't fully accept prosecution, defense theories
Rome, Italy (CNN) -- Jurors believed American Amanda Knox played a role in the slaying of her British roommate, Meredith Kercher, but thought the death came about without any premeditation or animosity, according to a report released Thursday.
The 427-page report, written by Judge Giancarlo Massei and Assistant Judge Beatrice Cristiani, explains the reasons behind jurors' determination in December that Knox was guilty in the November 2007 stabbing death of exchange student Kercher while the two roomed together in Perugia, Italy.
The report blames "random contingencies" and "the combination of various factors" for Kercher's death.
"It is a crime that happened ... without any planning, without any animosity or rancorous feeling against the victim that in some way could be seen [as] a preparation and predisposition to the crime," it said.
Knox, 22, of Seattle, Washington, was sentenced to 26 years in prison for Kercher's death. Knox's ex-boyfriend, Italian Raffaele Sollecito, was sentenced to 25 years. A third man, Ivory Coast native Rudy Guede, was tried separately and was initially sentenced to 30 years, but an appeals court later reduced that to 16 years.
Knox's family issued a statement, saying they had "asked Amanda's lawyers to immediately begin the process of appeal."

Video: Knox innocent, parents say

Video: Knox's parents blame media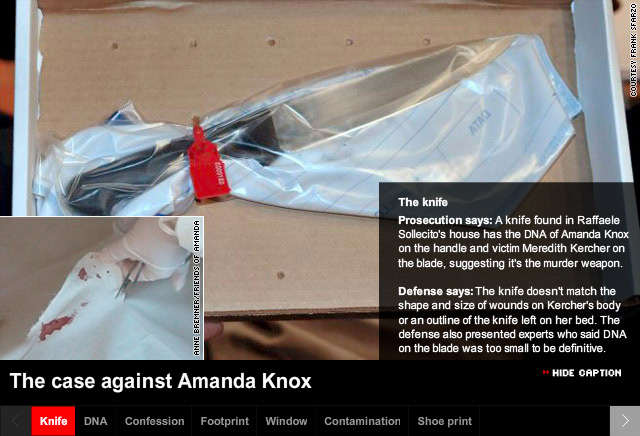 Interactive: The evidence

Timeline: The Amanda Knox case
"We know she is innocent as there is no forensic evidence that puts her in Meredith's room, no evidence of her at the scene of this horrible crime," the statement said. "Meredith was Amanda's friend. They liked each other and spent time together when not in school. Amanda would not hurt Meredith."
The family said the appeal would detail what they said was "a lot of conjecture in these motivations, a number of discrepancies as well as a number of inconsistencies and contradictions; as well as conclusions not supported by evidence."
Sollecito is also expected to appeal; both have denied involvement in Kercher's death.
During the 11-month trial of Knox and Sollecito, prosecutors argued Knox was a resentful American so angry with her British roommate that she exacted revenge during a twisted sex misadventure game at the students' home. They said Knox directed Sollecito and Guede to hold Kercher down as Knox played with a knife before killing her.
Defense attorneys for Knox and Sollecito said Guede acted alone. Knox testified in court that she was not home at the time of the slaying. She told jurors during her trial that she is not a "killer."
However, jurors rejected both of those theories, according to Thursday's report. They found Guede the main instigator -- not Knox, as prosecutors hypothesized.
The jurors believed that Guede went into Kercher's room and attempted to have sexual contact with her, but Kercher pushed him away. Knox and Sollecito then came into the room and attempted to help Guede have "his way" with Kercher, the report said. Sollecito held Kercher while Guede fondled her, the report said, but things spiraled out of control.
Sollecito poked Kercher with a knife, inflicting one wound measured at 4 cm (1.5 inches), and Knox poked her with a bigger knife after she screamed, inflicting a larger 8-cm (3-inch) wound, jurors found.
"The most plausible hypothesis is that Rudy decided by himself to enter Meredith's room," the report said. "The reaction and refusal of the girl must have been heard by Amanda and Raffaele, who actually were probably disturbed and intervened, given the unfolding of events. They backed Rudy, whom they allowed to enter the house" and ultimately became Kercher's killers because of events that followed, according to the judges.
All three, the jurors believed, were under the influence of drugs. "The motive is therefore of erotic sexual violent nature, which originating from Rudy's choice of evil, found its active collaboration from Amanda Knox and Raffaele Sollecito."
While both Knox and Sollecito denied being at the crime scene, jurors noted that Knox's blood was found in the bathroom and Sollecito's DNA was found on Kercher's bra. The two cannot prove they were at Sollecito's home until the following day, as no evidence puts them there, according to the report.
A knife found in Sollecito's house, with Knox's DNA on the handle and Kercher's DNA on the blade, was the murder weapon, jurors believed, according to the report.
Both Knox and Sollecito must have felt remorse, the judges wrote, because they covered Kercher's body and closed the door of the room where she lay. Police had to force it open the next morning. The judges said that was "significant behavior."
CNN's Mallory Simon contributed to this report.