Attorney for Fort Hood suspect starts blog to state his case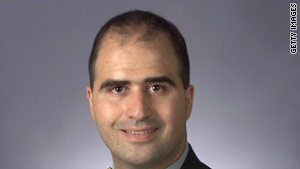 The civilian attorney for Maj. Nidal Hasan has started a blog in response to a judge's gag order.
STORY HIGHLIGHTS
Lawyer for Maj. Nidal Hasan responded to judge's gag order by launching a blog
On blog, lawyer says that he is under a gag order, but Army prosecutors are not
Lawyer said Army won't allow him to depose Fort Hood's former base commander
Washington (CNN) -- In response to a partial gag order, the attorney for the Fort Hood, Texas, shooting suspect has started a blog to make his case on the high-profile case.
The civilian attorney representing Maj. Nidal Hasan, the Army psychiatrist accused of killing 13 people at Fort Hood last November, has been working for weeks to get evidence in the case in preparation for trial. The routine legal procedure used in most criminal cases is called discovery.
Late last week, the Army finally began making some of that discovery evidence available to John Galligan, a retired Army colonel with extensive military law experience. As it made the evidence available, Galligan said, the military judge issued a gag order forbidding Galligan from inadvertently or purposefully "divulging, publishing or revealing, either by word or conduct," information from the evidence.
Galligan responded to the gag order by launching a blog about the case at forthoodattorney.com.
On the blog, Galligan writes that "the U.S. Army is operating with a double set of standards" in Hasan's case because, he said, there is no gag order for the Army prosecutors. Galligan described the evidence he still seeks as the type "routinely made available."
Galligan also criticized the Army for refusing to let him depose Lt. Gen. Robert Cone, the base commander at Fort Hood at the time of the shooting. He titled that blog posting "Are They Afraid of What He Might Say?"
"It is incredulous that Colonel Morgan M. Lamb, a mid-level commander in the chain of command could determine, as he did on 26 February 10, that there was 'no probable relevance or necessity of LTG Cone's testimony,'" Galligan writes on the blog. "Clearly, military authorities superior in rank to LTG Cone need to weigh in and reverse this senseless decision."
Cone left Monday for a year-long tour of Iraq.
Efforts by CNN to reach Fort Hood officials for comment on the blog were unsuccessful Monday.
Fort Hood officials told CNN last week that if Cone needs to be deposed, it can be done via secure videoconferencing.