Man charged in 11 deaths indicted on new charges, prosecutor says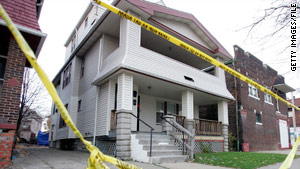 Eleven sets of human remains were found in Anthony Sowell's house in Cleveland, Ohio.
STORY HIGHLIGHTS
NEW: New charges involve a "whole new case," prosecutor says
NEW: Prosecutor says woman was attacked by Sowell but managed to escape
Remains of 11 women were found at Anthony Sowell's house last year
Sowell already faced 85 charges; has pleaded not guilty by reason of insanity
(CNN) -- An Ohio man already charged with murder in the deaths of 11 women has been indicted on new charges of kidnapping, attempted murder and felonious assault, a prosecutor announced Thursday.
Cuyahoga County Prosecutor Bill Mason said that a grand jury indicted Anthony Sowell on those charges in connection with the alleged assault of a 42-year-old woman.
No further details were released.
Sowell was already facing 85 charges -- including murder, rape and kidnapping -- following the discovery of 11 sets of human remains at his Cleveland, Ohio, home in October and November.
He pleaded not guilty by reason of insanity in December. Prosecutors are seeking the death penalty.
Sowell is a registered sex offender who served 15 years in prison before being released in 2005.
Mason told CNN that the new charges are separate from those brought last year. "It's a whole new case," he said, adding that he expects these charges to be tried separately from the 85.
The new charges are related to an incident that allegedly occurred on April 21, 2009, Mason said.
Sowell and a woman, now 43, were "drinking and partying in the afternoon," the prosecutor said. "Later he attacked her, choked her, beat her a little bit."
"She was able to escape through some creative thinking," he said, explaining that the woman, whom he would not identify, pretended she was on the phone with a daughter. Sowell then allowed her to leave, Mason said.
Sowell's defense attorneys did not immediately return a phone call seeking comment.
The woman came to authorities as the bodies in Sowell's house were being discovered and authorities later corroborated her statement, Mason said.
The prosecutor also said that his cold case unit is reviewing unsolved murders that occurred during the time Sowell lived in Cleveland and East Cleveland. Mason said the group is about two-thirds of the way through 75 cases.
He said evidence is not scheduled to be presented until June for the case involving the 85 charges.
In addition to the charges related to the deaths of the 11 women whose remains were found at his home, Sowell is also charged with assaulting three other women and raping two of them, authorities said. Most of the women whose remains were found were strangled by ligature -- which could include a string, cord or wire -- and at least one was strangled by hand, officials said. Seven still had ligatures wrapped around their necks. A skull is all that remains of one victim. It was found wrapped in a paper bag and stuffed into a bucket in the home's basement.