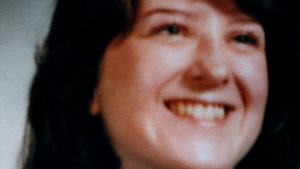 Holly Branagan, 17, was home alone when she was killed by an intruder on March 28, 1979.
STORY HIGHLIGHTS
Holly Branagan, 17, stabbed to death by an intruder more than 30 years ago
High school senior was home alone, talking on phone when she answered the door
Her brother found her body on the kitchen floor the next day
Branagan's is first of 31 cases being considered by a special grand jury
New York (CNN) -- On the last day of her life, Moira "Holly" Branagan, 17, was at home, talking to a friend on the phone. The high school senior said someone was at the door. She told her friend she had to go.
It was shortly before 5 p.m. on March 28, 1979.
Her brother found her body the next morning on the kitchen floor of the family's house in Bethlehem, Pennsylvania. She had been stabbed repeatedly, and the broken knife blade was left in her back.
No one was ever charged with her slaying.
Holly, who sang in the choir at Freedom High School and planned to attend Penn State, was home alone on the day she was killed. Her mother had died of leukemia two years earlier. Her father was away on business in Atlantic City, New Jersey. Her brother, Sean, was spending the night with a friend.
The case made a big impression on John M. Morganelli, a law student who lived about half a mile away. "It was very big news," he recalled. "This girl was stabbed repeatedly with a knife. She didn't seem to have any enemies. She was a nice kid. It's a real puzzle."
Morganelli is now the district attorney of Northampton County, and this week he's presenting Holly Branagan's case to a special investigative grand jury. The panel's first session is Thursday, and over the next 18 months, it will hear evidence on as many as 31 cold cases.
She was a nice kid. It's a real puzzle.
--D.A. John Morganelli
"We have approximately 31 unsolved homicides that go back 30 years," Morganelli told CNN in a phone interview. "I thought it was time to look at them."
Morganelli said his office is now trying to determine which cases, besides Holly Branagan's, will move forward. "We've prioritized them based on our determining whether there is a chance that we can solve the case," he said.
Over the years, Holly's friends and classmates have kept her case alive on the Internet. Police circulated a flier seeking clues at a recent high school reunion.
Hers is the first of three cases being prepared for the grand jury. The other two cases are the slayings of Robert Sarko and John Mayerchak.
Sarko disappeared in June 2000, and remains were buried with his ID near where he lived but the DNA was inconclusive at the time. "We think this is a solvable case," Morganelli said. Mayerchak was shot to death in September 1985. Morganelli said his office has "a number of people that we are looking at."
Robert Egan, a retired state police officer and detective, is leading up the investigations for Morganelli's office. For him, the grand jury presents perhaps the best, if not the final, opportunity to solve the Holly Branagan murder.
The killer's DNA is in the house.
--Investigator Robert Egan
"It will probably be too late much after this," Egan said, "because the witnesses will start dying and it will be even harder to process physical evidence. It's at a point where it's 30 years old and you can't wait any longer."
Advances in examining genetic material could play the most important role in unraveling the mystery. "The killer's DNA is in the house," Egan said.
"There is evidence that we collected at the time it was initially investigated," he said. "We are working with that evidence, and we are working with some of the new DNA technology."
Morganelli is hopeful the grand jury will return subpoenas that will eventually produce arrests. "I don't have a crystal ball, but we're not going through it aimlessly," he said.
This is not the first time he has turned to a grand jury for cold case homicides. He said a panel he seated in 1999 heard testimony on six old cases. Two were solved.
Richard Branagan is optimistic his daughter's killer will be found. But he is cautious about what to expect. "This has taken 30 years," he said. "Now I have to see what develops from there on."
The passage of so much time has not eased his pain. "I've lived every day of it," Branagan said.