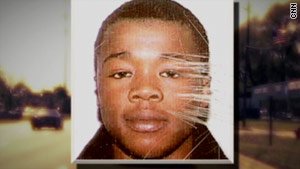 Baron "Scooter" Pikes was handcuffed when an officer fired a Taser at him nine times in 14 minutes, say police.
STORY HIGHLIGHTS
January 2008, police strike Baron Pikes, 16, nine times in 14 minutes with 50,000-volt Taser
Pikes was handcuffed during Taser incident, says Winnfield Police Department
The coroner ruled Pikes death a homicide, saying officer violated procedure for using Taser
Officer was fired following civil service hearing; now on trial for manslaughter in Winnfield
Winnfield, Louisiana (CNN) -- A judge has sealed a potentially explosive videotape taken in the aftermath of a racially charged incident in this small central Louisiana town two years ago.
On January 17, 2008, an unarmed man -- wanted on what police said was an outstanding arrest warrant -- was struck by a 50,000-volt Taser nine times within the space of 14 minutes.
The suspect, Baron "Scooter" Pikes, was handcuffed during each separate Taser incident, according to the Winnfield Police Department. The officer who fired the Taser, Scott Nugent, is white. Pikes, who was pronounced dead on arrival at a hospital, was black.
CNN's account of the incident in the summer of 2008 relied on interviews at the time with the local parish coroner, the police and an attorney for the family of the victim.
Winn Parish Coroner Dr. Randy Williams told CNN that in his opinion, Nugent had violated every police procedure for using a Taser on a suspect. Moreover, contrary to initial police reports, Williams told CNN that there was no trace of drugs in Pikes' system. The coroner ruled the death a homicide. Subsequently, the officer was fired following a long civil service hearing and is now on trial for manslaughter in Winnfield.
At the time, a lawyer for Nugent, Phillip Terrell, told CNN that his client had, in fact, followed proper procedure and that Pikes was resisting arrest and had fought with Nugent before being struck by the Taser.
The video sealed Monday by the judge shows the aftermath of Nugent's Taser use, according to sources who have seen the tape. They told CNN that it runs about 17 minutes and was shot by Nugent himself.
The tape begins with Pikes handcuffed to a chair in the Winnfield Police Department, the sources said. He had already been hit by a so-called "direct" stun -- a Taser fired directly into his chest rather than from a distance -- and eight other Taser shots.
Off camera, voices can be heard taunting him, shouting the "N" word and demanding to know if he was high on drugs, the sources said. The tape also shows Pikes foaming at the mouth and struggling to breathe. He later slumps to the floor and is ultimately taken to an emergency room with shackles around both of his ankles. CNN has seen still photographs of the lifeless body, still in leg shackles at the hospital.
At a motion hearing Monday in Winn Parish District Court, both the prosecutor, R. Chris Nevils, and the lead defense attorney, George Higgins, said in open court that the tape existed and asked Judge John Joyce to seal it until it was put into evidence at trial, now set for June 14. Both lawyers said release of the tape would taint the local jury pool and set the grounds for a change of venue. Joyce agreed and ordered that the tape not be disseminated under threat of contempt of court until it is played in open court.
CNN approached Nugent after the hearing and asked him for comment on the tape but his attorneys advised him not to answer. The attorney also had no comment.
Attorneys for Pikes' family have filed a wrongful death suit in a federal court in Louisiana, seeking unspecified damages from the town of Winnfield and each officer involved.
The lead attorney for the family, Carol Powell-Lexing, told CNN she believes Pikes' death has been subject to a police cover up from the beginning. A spokesman for the Winnfield Police Department said there was no cover-up.