Fisher-Price recalls millions of toys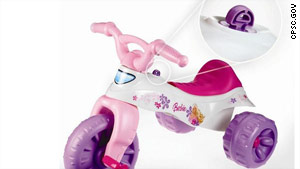 Tricycles and baby play areas are among the toys being recalled by Fisher-Price.
STORY HIGHLIGHTS
The toys include tricycles, cars and baby play areas
The company also recalls several types of high chairs
Company says it received complaints of choking and cuts from toys
Read more details of what's being recalled on Mattel's recall website.
(CNN) -- Toy manufacturer Fisher-Price announced Thursday that it has recalled about 10 million toys because they were dangerous to children.
The toy maker said it has recalled about 2.8 million of several types of baby play areas with inflatable balls because of problems with choking. It also recalled 125,000 of the toys in Canada.
The company found that a valve from the inflatable ball can come off and become a choking hazard.
Fisher-Price said it was aware of 46 reports of the valve coming off in the United States and eight incidents in Canada.
"These include 14 reports of the valve found in a child's mouth and three reports of a child beginning to choke. No injuries have been reported," the company said.
More than 7 million tricycles were also being recalled because of a protruding part that had cut children, the company said.
The company said it was "aware of 10 reports of incidents resulting in injury. Six of the incidents required medical attention."
Fisher-Price also said it recalled about 120,000 small car toys because of at least two reported cases of the wheels coming off, causing a choking hazard.
Along with the toys, the company also recalled close to a million of several types of high chairs because of 14 reports of children being cut by the legs on the chairs.
In seven of the cases, the injured children needed stitches, the company said.
Customers can call the Fisher-Price hot line at 800-432-5437 for more information.
FOLLOW THIS TOPIC