Iraqi government: Iranian refugees to be moved from camp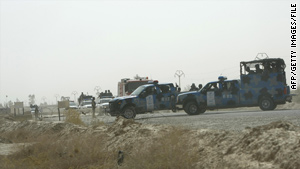 Iraqi police vehicles block the entrance to Camp Ashraf during a skirmish in July.
STORY HIGHLIGHTS
Dissidents to be moved to Baghdad hotel, officials say
Iranian group's spokesman denies report, warns of "massacre"
U.N. mission expresses concerns about move
Thousands live in camp, many since fleeing Iran decades ago
BAGHDAD, Iraq (CNN) -- More than 3,000 Iranian dissidents are set to be moved Tuesday from their refugee camp in northeastern Iraq to a hotel in Baghdad, the Iraqi government said Monday.
However, a spokesman for Camp Ashraf in Diyala province -- home to members of the People's Mujahadeen Organization of Iran -- called any claim by the government of an agreement with residents "unfounded and untrue."
"Any attempt to forcibly displace Ashraf residents will undoubtedly lead to a massacre and humanitarian catastrophe," Shahriar Kia said in an e-mail Sunday.
The U.N. Assistance Mission for Iraq also expressed concerns over the announced move, calling Monday for "a resolution that is consistent with Iraq's legitimate sovereignty rights and international law; that will be based on the free expression of personal preference by individual residents; and that will seriously address options for voluntary resettlement outside Iraq."
About 3,500 people live at Camp Ashraf, most of them members of the Iranian group who have lived there for 25 years since fleeing Iran.
In a statement released Friday, Amnesty International expressed fears that "forced removals of the residents of Camp Ashraf would put them at risk of arbitrary arrest, torture or other forms of ill-treatment, and unlawful killing."
Iran, Iraq, Canada and the United States consider the group -- which opposes the government in Tehran -- a terrorist organization. The European Union removed the group from its terrorist list in January because the group "no longer advocates or engages in armed opposition to the government of Iran," according to human-rights group Amnesty International.
The group was allied with Saddam Hussein in Iraq during the 1980s, with a goal of toppling the Iranian regime.
Iran wants to see the camp shut down, and the Iraqi government has said it would close the facility after it got control of the camp from the United States this year.
The camp has been the site of several clashes between its residents and Iraqi security forces. A police raid in July led to the deaths of 12 residents.
Residents in the camp have said they are concerned about being forcibly turned over to Iran. They have said they would be willing to go back to Iran, but only if there are assurances that they won't be mistreated.
CNN's Mohammed Tawfeeq contributed to this report.