By Hamid Dabashi
Special to CNN





Editor's note: Hamid Dabashi is the author of "Iran: A People Interrupted." He is Hagop Kevorkian Professor of Iranian Studies and Comparative Literature at Columbia University in New York. His Web site is http://www.hamiddabashi.com/.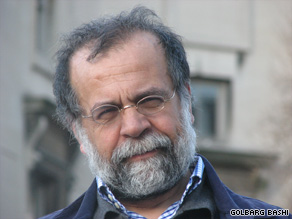 Hamid Dabashi says Obama's advocacy of nuclear disarmament makes him worthy of the Nobel Peace Prize.
NEW YORK (CNN) -- President Obama woke up today with the once-in-a-lifetime news that he won the 2009 Nobel Peace Prize. The joy and pride of this early morning news must have matched, if not surpassed, that other piece of news he received the evening of November 4, 2008, when he won the presidency of the United States.
He won the presidency by hard work, tenacity and above all an exceptional oratorical gift to share the expansive vision he had for a deeply troubled country that was much maligned on the world scene.
His mere election, and the joyous euphoria it generated among millions of his supporters, was a delivery of Americans from eight troubled years in which they could hardly recognize themselves in their own country. Now he wins this singular honor for sharing that very liberating vision for an equally troubled and even more maligned world.
"Only very rarely has a person to the same extent as Obama captured the world's attention and given its people hope for a better future," the Norwegian committee said in its statement announcing the prize.
Don't Miss
Paramount in the committee's decision has been the president's commitment to diplomacy over warfare, and even more significantly a daring and imaginative idea to rid the world of the ultimate terror with which humanity has lived since Hiroshima.
There were reports that when the president was about to deliver his historic speech at the United Nations on nuclear disarmament, the news of a new Iranian uranium enrichment plant reached him and President Nicolas Sarkozy of France and Prime Minister Gordon Brown of England.
There were also reports that his European counterparts wanted him to make the urgent announcement of that discovery before he gave his U.N. speech, but that he insisted he wanted to give his speech first. This is the difference between two ordinary politicians and a visionary statesman: Chart a path of hope before you signal a note of despair.
Nothing is more urgent for the world than a global nuclear disarmament as a grand strategy, while no other country is allowed to develop the catastrophic weapon. We have so deeply internalized and repressed the fear of a nuclear annihilation that we no longer realize what a nightmare hangs over our fragile life on an even more brittle earth.
That Obama has given it a singular priority in his administration points both to the urgency of the matter and the historic opportunity he has to accomplish it. Like all other visionaries, dreamers of the impossible, he is taken for a fool by his detractors. But the youthful euphoria that welcomed him into the White House and promised him this prize means he is on the right and the winning side of history.
The most urgent challenge that faces the president precisely in realizing this vision is the nuclear ambition of the Islamic Republic of Iran. Winning the Nobel Peace Prize, the president now has a counterpart in Iran infinitely more important than any president or leader.
Shirin Ebadi won precisely the same prize in 2003. As an Iranian, a woman, a Muslim and a brave and untiring human rights activist, Ebadi will have much to tell her fellow Nobel Peace Prize winner (in Oslo, Tehran or Washington) about Iran that will give insight into the recent hopeful signs of rapprochement between the two nations that could signal a fundamental commitment to the sanctity of our fragile humanity.
The opinions expressed in this commentary are solely those of Hamid Dabashi.
E-mail to a friend

All About Nuclear Weapons • Nobel Peace Prize