By Yusra Tekbali
Special to CNN





Editor's note: Yusra Tekbali is an Arab-American freelance journalist. Born in Woodland, California, to Libyan parents, she graduated from The University of Arizona with degrees in journalism and Near Eastern studies.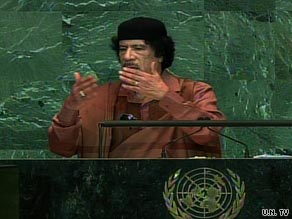 Yusra Tekbali says Libya shouldn't be judged on the basis of Gadhafi's rambling speech to the General Assembly.
(CNN) -- On Wednesday, Libyan leader Moammar Gadhafi spoke before the U.N. General Assembly for the first time in his 40-year rule -- apparently making up for lost time with a nearly 100-minute speech, which dramatically exceeded the allotted 15 minutes.
Gadhafi stuck to his usual enthusiastic manner of delivery, without relying on teleprompters. In some instances he became visibly overheated, ad-libbing and saying things he probably wouldn't have said had he stuck to a speechwriter's text.
Gadhafi's advisors should have helped him prepare a speech that would have been more appealing to the American people. In it, he should have addressed Libya's improving relationship with the U.S., including several business developments and diplomatic exchanges, as well as Libya's changing economy and society.
Instead of saying that Obama should "rule forever," Gadhafi should have praised the president for ushering in a new era and embracing the Arab world, which includes Libya. Gadhafi, who was warned by the U.S. not to gloat about the release of the Libyan convicted in the Lockerbie bombing, entirely avoided it and mentioned everything else in his eclectic, over-the-top speech. He called for a reinvestigation of Martin Luther King Jr.'s death, demanded Africa's past colonizers pay $7.7 trillion in compensation, and even suggested swine flu was created in a military laboratory.
At one point he demanded to know who was behind the assassination of JFK, complained about being jet-lagged, and then chastised his audience for falling asleep.
Even critics acknowledged that he did make some coherent points.
Indeed, his statement about reforming the United Nations (by providing for more equality of representation and redistribution of the veto power) undoubtedly struck a nerve not only with Libyans, but with millions of Third World citizens around the world.
However, for the most part Gadhafi's speech was dismissed as a typical series of rantings, another one of the "mad dog's" tricks. Top diplomats, including U.S. Secretary of State Hillary Clinton and U.S. Ambassador to the U.N. Susan Rice, left before Gadhafi even took the podium. Outside, protesters who were relatives of the Lockerbie victims shouted "terrorist," and earlier in the day, Libyan opposition groups faced off against Gadhafi supporters.
Don't Miss
Yet make no mistake about it: Gadhafi was grateful for the opportunity. He has diligently tried to address the U.N. in the past, but was always met with resistance from the U.S.
Libya's decision to abandon its nuclear program and accede to American requests to compensate the victims of the Lockerbie case helped restore relations with the West, resulting in creation of a U.S. Embassy in Tripoli. Greater international acceptance led to Gadhafi's election as chairman of the African Union, a position which allows him to represent Africa in the U.N..
As a Libyan-American, I often have to confront stereotypes about my identity. More often than not, Gadhafi is the only thing people can equate with Libya. This is forgivable given Libya's history of global isolation, but the repercussions are extraordinary.
Consider for example, my experience one summer at a camera shop in Egypt, which shares a border with Libya.
While waiting for my film to be developed, I began talking to my mother in Libyan. The sales clerk asked where I was from. When I replied I was originally from Libya, he asked me where it was! It would be easy to write him off as clueless, if similar situations did not happen so frequently.
The truth is most people confuse Libya with Morocco or Algeria, and know very little of its cultural past, which includes Roman, Turkish and Italian influences. When the spotlight is constantly on Gadhafi, the task of defining Libya's rich heritage is compromised, undoubtedly discouraging tourists, politicians or business people from entering the country.
Many Libyans in the diaspora, including thousands of Jews, grew up eating couscous and are familiar with Libyan traditions. They can trace their heritage back thousands of years, yet because of fear, political exile, or being generally turned off by the idea of visiting a country so forcefully controlled, they have never set foot in Libya.
Gadhafi's speech enhanced Libya's image as a dictatorship. Indeed, Gadhafi has outlived absolute rulers of Africa and Latin America, and he seemed intent on outdoing the speeches of Khrushchev, Castro and Chavez when he threw the U.N. charter over his shoulder during his speech.
Yet Libya is more than what was on display in the speech. Libya is notable for its vast Saharan deserts and historical landmarks. Its 1,100-mile Mediterranean coastline is the longest in Africa, and the curiosity and hospitality of Libyans is visible in every shop.
Gadhafi was not exactly welcome in America. Hotels in the greater New York area turned him away, and the colonel was no doubt disappointed to find that American opinion was so fervently against his presence in their neighborhood that he couldn't even pitch his tent on land the Libyan government owns in New Jersey.
Protesters outside the U.N. expressed their outrage with his visit, despite the presence of some supporters within the Libyan community. Gadhafi, who is used to a red-carpet reception in many countries, undoubtedly took home a message: America will not play along with his every whim.
The opinions expressed in this commentary are solely those of Yusra Tekbali.
E-mail to a friend

All About Libya • Moammar Gadhafi • United Nations