BAGHDAD, Iraq (CNN) -- The highly fortified International Zone in Baghdad came under fire the same day that Vice President Joe Biden paid a surprise visit, an Interior Ministry official told CNN.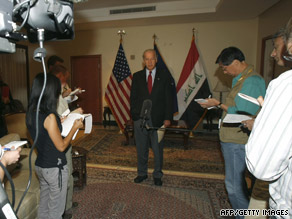 Vice President Joe Biden talks to the media Tuesday in Baghdad's fortified International Zone.
Biden was not injured, according to CNN's Chris Lawrence, who was traveling with the vice president. But at least one round seems to have landed in the U.S. Embassy grounds, U.S. Ambassador Christopher Hill said.
The zone houses the embassy and many government buildings. Lawrence said he heard the blasts but saw no damage.
CNN's Cal Perry said he heard four loud "booms." Warning alarms were sounded, and security was stepped up in the International Zone, which is informally known as the Green Zone.
It is not clear what weapons were fired or if Biden was near the location where the rounds hit. For security reasons, reporters traveling with the vice president are not allowed to report his location.

Watch as Lawrence reports on the attack »
A U.S. military spokesman said he could confirm only that one round hit, and he said it did not land in the International Zone.
"Initial reports indicate one round of indirect fire impacted near the International Zone, not in it," Lt. Col. Phillip Smith, a spokesman for the U.S. military in Baghdad, told CNN.
But Hill told reporters that some sort of projectile landed in the east end of the embassy complex. He said the projectile was the reason for a "duck-and-cover" alarm that journalists traveling with Biden heard during a briefing by top U.S. officials in Baghdad.
The alarm sounded intermittently throughout almost the entire 35-minute briefing by Hill and the top U.S. general in Iraq, Ray Odierno, Lawrence said.
Odierno and Hill did not seem concerned, he said. No one jumped up or tried to run out of the building. They paused if they were talking when the alarm sounded, and picked up when it stopped.
There was an "all-clear" as the briefing ended.
Hill said it is kind of unusual to get this type of attack now. He said they used to happen 10 to 12 times a day, but now are few and far between.
Biden's visit was widely reported on Iraqi television, Perry said.
He is in Iraq to meet with the country's leaders and visit U.S. troops, his office said.
Journalists on the plane with the vice president were not told where they were going until after they were on the way.
Biden was due to sit down with Iraqi President Jalal Talabani and Prime Minister Nuri al-Maliki, as well as Massoud Barzani, the president of the Kurdistan Regional Government, and other officials.
He was greeted at the airport at dusk by Gen. Odierno, Ambassador Hill and Iraqi Foreign Minister Hoshyar Zebari.

Watch Biden arrive in Iraq, greet troops »
He flew by helicopter to the International Zone. Biden, Hill, Odierno and Deputy Secretary of State Jim Steinberg, who is traveling with Biden, then went into a meeting.
They did not speak to reporters.
This is Biden's third trip to Iraq this year, after visits in July and January.
"The president has asked the vice president to provide sustained, high-level focus from the White House on Iraq, and this trip is part of that mission," the White House said in a statement issued as Biden arrived.
The United States is less than a year away from its goal of withdrawing all combat troops from Iraq.

Hill has said the next 12 months are "very critical" to establishing security in Iraq, but the goal of withdrawing most U.S. troops by August 2010 is "absolutely achievable."
Biden said Odierno is "optimistic" that Iraqi forces will be ready in time to allow U.S. withdrawals to go ahead as planned, according to Lawrence.
E-mail to a friend

CNN's Jomana Karadsheh contributed to this report.
All About Baghdad Green Zone • Baghdad • Joe Biden