TEHRAN, Iran (CNN) -- The wife of Iranian opposition leader Mir Hossein Moussavi spoke publicly about her brother's detention for the first time Thursday, accusing the Islamic government of fueling false allegations about him, according to media report.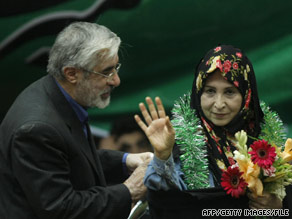 Iranian opposition leader Mir Hossein Moussavi and wife Zahra Rahnavard in Tehran in May
Zahra Rahnavard told the semi-official Iranian Labour News Agency that her brother, Shahpour Kazemi, 62, was arrested a month ago. Kazemi, who has permanent resident status in the United States, is facing allegations similar to other recent detainees, who are accused of organizing the massive
A hard-line cleric levied the allegations against her brother, Rahnavard said, and her family has until now kept quiet about the situation in hopes of seeing him released through legal channels, the news agency reported.
Hundreds of people were detained after the elections, but officials say "only the organizers of the conflict" are still behind bars. Government officials announced Wednesday that the "confessions" of the remaining detainees will soon be broadcast.
Meanwhile, Moussavi and fellow opposition candidate Mehdi Karrubi have formed a committee to follow up on the statuses of detainees and the circumstances of their arrests and deliver those details to family members, according to Iran's Aftab News.
In an unusual step in politics in Iran, Rahnavard campaigned for her husband, whose apparent defeat in Iran's presidential election to President Mahmoud Ahmadinejad sparked the unprecedented demonstrations. Rahnavard's public support of Moussavi's candidacy underscored his professed support for women's rights.
"The plotters of such ugliness must know and rest assured that the wrath of the Almighty will reach them and the people of Iran will reject them," Rahnavard said, according to the news agency. "... I am announcing that no matter what fabricated confession they get out of Engineer Kazemi (her brother) and no matter what they print about him, I and the people of Iran will not believe these lies."
Don't Miss
She acknowledged that her brother, a telecommunications engineer, frequented the United States for work and to seek treatment for his ailing wife.
However, she added, "They must also forget the fact that he is a (U.S.) Green Card holder, unless they want to use that to fabricate more charges."
E-mail to a friend

All About Iran • Mir Hossein Moussavi • Iranian Politics