LONDON, England (CNN) -- The Iranian government is considering whether to downgrade ties with Britain amid growing tensions over the disputed presidential election, the ISNA news agency reported Wednesday.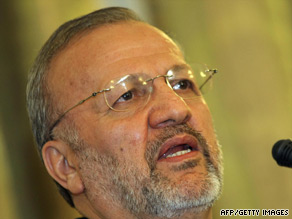 Iranian Foreign minister Manouchehr Mottaki has accused Britain of meddling in its affairs.
The move comes after Britain expelled two Iranian diplomats Tuesday after Iran asked two of their British counterparts to leave a day earlier. The two British envoys were accused by Iran of "activities incompatible with their status," Britain's Foreign Office said.
British Prime Minister Gordon Brown told the House of Commons -- Britain's main legislative body -- that the allegations were "absolutely without foundation" and that he had no choice but to respond.
Meanwhile, Iranian Foreign minister Manouchehr Mottaki confirmed Tehran was looking at relations with the UK following the tit-for-tat diplomatic expulsions.
"We are studying it," he told Iranian state television in quotes carried by the British Press Association.
The Iranian government has long blamed foreign countries, especially Britain, for "meddling" in its affairs but have yet to offer proof.
On Sunday Mottaki said Britain had been planning to undermine the Iranian election for more than a year. "We witnessed an influx of people from the UK ahead of the election," he said, without offering specifics.
He also accused Britain of supporting followers of the Baha'i faith, a religion that originated in 19th-century Persia but which Iran does not recognize.
Don't Miss
British Foreign Secretary David Miliband said Mottaki was trying to turn an internal dispute into a battle between Iran and other countries. "I reject categorically the idea that the protesters in Iran are manipulated or motivated by foreign countries," he said in a statement.
On Friday, Iran's supreme leader, Ayatollah Ali Khamenei, criticized the United States, Britain and Israel for manipulating and undermining the election process in a sermon during Friday prayers.
"Their enmity toward the Islamic establishment -- they are showing this," Khamenei said. "The most treacherous is the government of Britain."
The crowd then chanted, "Down with the UK. Death to the UK."
Meanwhile, Iranian Intelligence Minister Gholamhossein Mohseni-Ezhei told reporters Wednesday that they have arrested several foreign nationals, some with British passports, in connection with the post-election unrest.
Ezhei told reporters that some with links to the West and Israel had planned a series of bombings in Iran ahead of the June 12 vote, Press TV reported.

"England is among the countries that fan the flames with their heavy propaganda, which is against all diplomatic norms," Ezhei was quoted in the semi-official Fars news agency.
The British foreign office said it was looking into the claims. "We have seen reports of the arrest of British Nationals in Iran," a spokesman told CNN. "Consular colleagues and the Embassy in Tehran are making enquiries."
E-mail to a friend

All About Ayatollah Ali Khamenei • Iran