TEHRAN, Iran (CNN) -- A 19-year-old woman who was wounded by Iranian paramilitary forces with clubs escaped with her camera and shared her photos with CNN -- after tricking a paramilitary soldier into thinking she had given him the images on a disk.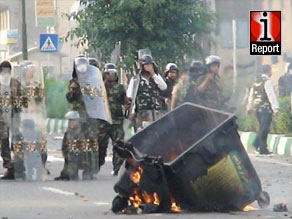 Members of the Basij paramilitary block a road leading to Freedom Square in Tehran.
The woman -- whose identity is being withheld by CNN -- said Sunday that on the previous day "the streets were full of guards and policemen."
"They were hitting everyone, and everywhere was fire because of the tear gas they throw at us," she said.
She was walking to Freedom Square in Tehran with a group of fellow demonstrators, but the Basij -- voluntary paramilitary forces that answer to the government -- wouldn't let them get through, she said.
They warned the group to turn around. "They said, 'Just run, and don't even walk.' We were just running away -- and we were hit, of course," she said.
It was too crowded to flee quickly, she said. "I said, 'I can't run. How can I run? It's so crowded in here.'

Watch the iReporter talk about the pictures she took »
"He hit me and he was twice [as big] as me -- he was so big. And I said, 'You want to hit me?' And he said, 'Yes' and then he hit me with a club."
She told CNN a Basij member hit her with a club, and then her foot was hit by a stone.
"Today I couldn't go out because my foot was injured and I couldn't run anymore. And I was sure: If I go out, I'm going to die. So I didn't go out today."
The group fought back by throwing stones at the soldiers, she said. "We had nothing to defend ourselves. Just the smallest stones we throw at them."
There were many women among the crowd of demonstrators trying to get to Freedom Square, she said. "We gave the boys the stones because we can't throw them so far. We gave them the stones, and we said the slogans."
The young woman said many in Iran think Supreme Leader Ayatollah Ali Khamenei is lying about the results of the June 12 election, in which incumbent President Mahmoud Ahmadinejad was declared the winner with more than 62 percent of the vote.
"We don't care who is the president now," she said. "We had rather [opposition candidate Mir Hossein] Moussavi, but now when our leader says it was fair and we know that it's not, I think that it's about our country. We want the truth."
The young woman sent photos of Saturday's incident to CNN via iReport. iReport.com: Share images from Iran

At one point when she was in her car, a member of the Basij stopped her and tried to get her photos, she said. But she tricked him, giving him an empty memory card while keeping the one that held the images.
She said her father, after learning of all that had transpired, said to her, "I'm so lucky that you're alive."
E-mail to a friend