By Ashley Broughton
CNN





(CNN) -- A former Iranian deputy prime minister who headed a group supporting increased freedom and democracy was pulled from his hospital bed and arrested Wednesday in Tehran, his granddaughter told CNN.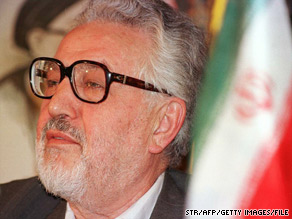 Relatives say they haven't heard from Ibrahim Yazdi, shown here in 1997, since his arrest Wednesday.
Ibrahim Yazdi, who is about 76 years old, is secretary-general of the Freedom Movement of Iran, said Atefeh Yazdi of Harrisburg, Pennsylvania. He has suffered from prostate cancer, and his condition must be closely monitored, she said.
The arrest comes amid reports of widespread protests and violence in the wake of disputed Iranian elections.
The family found out about the arrest -- as well as that of her uncle Mohandas Tavassoli, who also is involved in the Freedom Movement of Iran -- when Ibrahim Yazdi's wife called her daughter, Lily Yazdi, in Mountain View, California.
"We knew that this was a possibility," Lily Yazdi told CNN. "They had just arrested [Tavassoli] yesterday."
She said her son, who is visiting in Tehran, had taken her father to the hospital Tuesday because he was not feeling well. He was put under observation, she said.
Her mother reported that members of the Basij came to their home and attempted to force their way in, Lily Yazdi said. Told that Ibrahim Yazdi was not home, they left, but apparently discovered he was in the hospital.
The Basij is a volunteer paramilitary force that takes its orders from Iran's Revolutionary Guard and is suspected of being behind most of the reported violence.
There has been no word from either man, granddaughter Atefeh Yazdi said, and attempts to reach relatives by telephone and online have been unsuccessful.
"It's just been very stressful," she said. "We kind of had a feeling, had a hunch that something might happen. He's been arrested before. Family members have been in prison before. He's got a history of being sought after by the government."
Atefeh Yazdi said the arrest is proof of something her grandfather has predicted for a while: that another revolution in Iran is imminent.
Ibrahim Yazdi was an aide to Ayatollah Ruhollah Khomeini, the leader of the 1979 revolution that overthrew the ruling monarchy and established Iran as an Islamic republic, according to a 1979 article about him in Time magazine. Following the revolution, Yazdi held the post of deputy prime minister for revolutionary affairs in the provisional government of Medhi Bazargan, Time said. The magazine reported he later gave up that position to serve as foreign minister.
Supporters of Shah Mohammed Reza Pahlavi, who was overthrown in 1979, do not like Yazdi because of his role in the revolution, his granddaughter said. And the current government doesn't like him because "he's a little too liberal," she said.
According to the Freedom Movement of Iran's Web site, its main objective "is to gain freedom, independence and democracy for the Iranian nation, on the basis of modern interpretation of Islamic principles."
Atefeh Yazdi said her grandfather does not support President Mahmoud Ahmadinejad or the present government.
"This is just really hard because of his health condition," she said of her grandfather. "Apparently, they took him somewhere. We don't know who these people [the kidnappers] are."
Family members are worried he might be mistreated and his health will not be looked after.
"They're not nice in prisons in Iran," Lily Yazdi said.
She believes her father and Tavassoli were arrested because the Freedom Movement had put out two announcements on the election, although they were "fairly mild." The two have done nothing wrong, she said, but the government is attempting to keep any potential leadership from the people, so they will have no one else to look to. Members of other dissident groups, numbering in the hundreds, have been arrested for the same reason, she said.
The Freedom Movement's newspaper announced Ibrahim Yazdi's arrest and said 15 other members were also arrested in towns and villages across Iran, Lily Yazdi said.
Ibrahim Yazdi has been secretary-general of the Freedom Movement since 1995, according to the group's Web site.

Lily Yazdi said she has sporadic contact with her family in Iran as phone lines are up and down. But she said she is hopeful, hearing that protests have recently become more peaceful and police are providing better protection for members of the public.
News about Ibrahim Yazdi's arrest came on the day that defeated presidential candidate Mir Hossein Moussavi asked Iran's courts to release those arrested for protesting Friday's disputed election, according to a statement on the Web site of Moussavi's campaign.
E-mail to a friend

All About Iran • Mir Hossein Moussavi • Mahmoud Ahmadinejad