JERUSALEM (CNN) -- Israeli Prime Minister Benjamin Netanyahu said Sunday he will deliver a major speech next week to lay out his plan for the country's peace and security.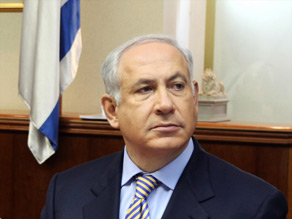 Israeli Prime Minister Benjamin Netanyahu plans a major speech next week.
Netanyahu made the announcement at the start of the weekly Cabinet meeting. He did not provide the date of his planned address.
"We want to achieve peace with the Palestinians and with the countries of the Arab world, while attempting to reach maximum understanding with the United States and our friends around the world," Netanyahu said. "My aspiration is to achieve a stable peace that rests on a solid foundation of security for the State of Israel and its citizens."
The announcement follows a speech to the Muslim world last week by President Obama that addressed the heated and controversial Palestinian-Israeli conflict by endorsing a two-state solution and urging compromise between "two peoples with legitimate aspirations."
Obama repeated his call for both Israel and the Palestinians to fulfill all obligations under the 2003 roadmap to peace, including a halt to any expansion of West Bank settlements by Israel. He also dispatched special envoy George Mitchell to the region to try to kick-start the negotiating process.
Obama's senior adviser, David Axelrod, told CNN's "State of the Union" on Sunday that leaders of Middle East and European nations have all expressed strong support for immediate progress toward resolving the Israel-Palestinian conflict.

Watch Axelrod defend the Cairo speech »
Asked by CNN's John King about Obama's candid recitation of the steps all parties need to take, Axelrod said such frank talk was necessary to get the process moving again.
He said the speech was well received because Obama was clear to all sides "about what our responsibilities are and have been."
"I think that kind of candor clears away some of the debris that has stood in the way of progress, and our hope is that now we can take advantage of that."
Axelrod said Obama understands the political difficulty facing Netanyahu, who has yet to endorse a two-state solution and has balked at committing to halt some West Bank settlement expansion. The Israelis and Palestinians have tough decisions to make to fulfill obligations, he said.

"That's not going to come without people stepping up and challenging the prevailing politics on both sides, and the president is urging them to do that," Axelrod said.
In his Cairo speech, Obama called America's bond with Israel "unbreakable" but also rejected the legitimacy of continued Israeli settlements and said Palestinians have suffered in pursuit of a homeland. He also called for an end to Palestinian incitement against Israel, and greater security in Palestinian territories.
E-mail to a friend

CNN's Shira Medding contributed to this report.
All About Israel • Palestinian Politics • Barack Obama