BAGHDAD, Iraq (CNN) -- The number of troops in Iraq will drop by 12,000 over the next six months, the U.S. military said in a statement Sunday.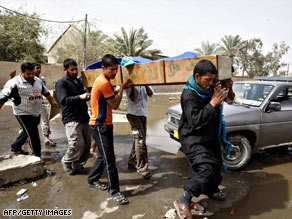 Iraqis carry a dead relative in Baghdad Sunday, the same day the U.S. said troop numbers in Iraq will drop by fall.
Two brigade combat teams and their support units will redeploy without being replaced, reducing the number of combat teams in Iraq from 14 to 12, the statement said.
An additional 4,000 British troops will also be transferred from Iraq without replacement, the statement said.
It was believed to be the first announcement of troop reduction since President Obama's announcement last month of the United States' plan to withdraw most of its troops from Iraq by the end of August 2010.
The reduction of Coalition forces is a result of "an increased level of security and stability" that the country has achieved over the past year, according to the military statement.
"The time and conditions are right for Coalition forces to reduce the number of troops in Iraq," Gen. Ray Odierno said in the statement.
Currently, there are 142,000 U.S. troops in Iraq. During his presidential campaign, Obama pledged to withdraw those troops within 16 months of taking office -- May of 2010.
Don't Miss
But under Obama's current plan, between 35,000 and 50,000 troops will remain to help execute a drawdown plan. All U.S. forces are set to be out of Iraq by December 31, 2011. That was a deadline set under the agreement that former President George W. Bush's administration signed with the Iraqi government last year.
"You all know about a week ago, the president outlined some milestones and some definitions of [our] mission as we operate with regards to the security agreement," Coalition spokesman Maj. Gen. David Perkins told reporters Sunday at a Baghdad, Iraq, news conference with an Iraqi government spokesman. "That agreement has all U.S. forces withdrawn from Iraq by the end of 2011. That is still our goal, and that is what we are working toward."
Obama said the troops remaining in Iraq would take on an advisory role in training and equipping Iraqi forces, supporting civilian operations in Iraq, and conducting targeted counterterrorism missions.
Obama's plan met with mixed reviews in Congress. Some liberal Democrats, including House Speaker Nancy Pelosi, expressed concern that the residual force Obama is planning to leave in Iraq is too large.
"Call such a troop level what you will, but such a large number can only be viewed by the Iraqi public as an enduring occupation force," said Rep. Lynn Woolsey, D-California, in a statement. "This is unacceptable."
Obama said he formulated the plan after reviewing several options presented by key military and civilian advisers, including Defense Secretary Robert Gates and Joint Chiefs of Staff Chairman Adm. Mike Mullen.
This month marks the sixth anniversary of the beginning of the war in Iraq.
E-mail to a friend

CNN's Mohammed Tawfeeq in Baghdad contributed to this report.
All About Iraq • U.S. Armed Forces Activities • Barack Obama