TEHRAN, Iran (CNN) -- Iran's first nuclear power plant will undergo comprehensive testing Wednesday in front of Russian and Iranian officials, Iranian Students' News Agency reported, quoting a nuclear expert.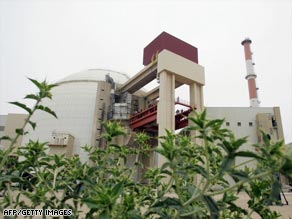 A building housing the reactor at the Bushehr nuclear power plant.
Reza Khazaneh, a former adviser to the head of Iran's Atomic Energy Organization (IAEO), told the semi-official news agency the tests will be carried out using "dummy" fuel rods without enriched uranium.
All of the Bushehr plant's systems will be tested, including its main units, auxiliary peripheral systems and initial circuits, ISNA said, quoting Khazaneh.
If these tests are successful, Khazaneh said, "then the next tests, with fuel rods containing enriched uranium, will take place near the end of 2009," ISNA reported.
Russia's nuclear power equipment and service export monopoly, Atomstroiexport, is building the plant under supervision of the International Atomic Energy Agency (IAEA), the United Nations' nuclear watchdog agency. Bushehr's completion has long been delayed.
Sergei Kiriyenko, head of the Russian Federal Atomic Energy Agency, and Gholam Reza Aghazadeh, head of IAEO, will attend the testing on Wednesday, IAEO spokesman Mohsen Delaviz told ISNA on Monday.
ISNA also reported that Iranian and international journalists have been invited to cover the event.
State-run television aired reports about Wednesday's testing and praised Iran's progress in nuclear technology.
The United States, several European nations and Israel suspect Tehran has been trying to acquire the capacity to build nuclear weapons, but Iran says its nuclear program is solely for peaceful purposes.
Last week, the Washington-based Institute for Science and International Security released a report stating that Iran has reached "nuclear weapons breakout capability" -- it has enough uranium to make a nuclear bomb. The report was based on an analysis of IAEA data.
However, an IAEA official who asked not to be named cautioned against drawing such dramatic conclusions from the data, saying Iran's stock of low-enriched uranium would have to be turned into highly enriched uranium to be weapons-grade material. That hasn't been done, the official said.
Hassan Qashqavi, a spokesman for Iran's Foreign Ministry, denied accusations that Iran intends to make a nuclear bomb.
"Based on our religion and our human values, we totally reject all kinds of using all these WMD, weapons of mass destruction, especially nuclear bombs," he said in an interview with CNN this week.
"We would like our Western friends to recognize our undeniable right to reach this technology peacefully," he added.
One Iranian professor has predicted that most international news reports on the plant's testing would not match the laudatory tone of Iranian reports.

Seyed Mohammad Marandi, a professor of North American studies at Tehran University, said he expects critics of Iran to describe the testing as more evidence that the nation is going after a nuclear bomb.
"I think the headlines will be negative," he told CNN recently. "But that is understandable because anything in Iran is perceived to be negative in the West."
E-mail to a friend

All About Iran • Nuclear Proliferation • Nuclear Energy