MADRID, Spain (CNN) -- Iran's powerful parliament speaker said Monday the Islamic nation hopes the United States changes its approach to the Middle East, and called the Obama administration "an exceptional opportunity for Americans."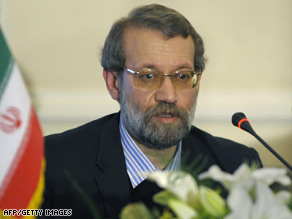 Ali Larijani says the United States' new president has created "some small windows of light toward the East."
"I don't want to be pessimistic. I hope the Americans change their strategy and respect the nations," said Ali Larijani in a wide-ranging interview with CNN affiliate Cuatro TV in Spain. "That doesn't just depend on us."
The conversation took place as Iran prepared to celebrate the 30th anniversary of the overthrow of the shah, whom Larijani called a dictator. Larijani made the stop in Spain after attending a global security conference in Munich, Germany, over the weekend.
Since taking office, President Barack Obama has created "some small windows of light toward the East," he said.
"This is an exceptional opportunity for the Americans," Larijani said, adding that if the United States eased embargoes against Iran, it would be a positive step. "Although the window of opportunity is the narrowest possible, they could change their strategy."
Later Monday, Obama said the United States is looking for opportunities for "face-to-face" talks with Iran after an absence of diplomatic ties for nearly three decades.
"There's been a lot of mistrust built up over the years, so it's not going to happen overnight," Obama said during his first prime time news conference Monday night.
Don't Miss
Obama said his administration is reviewing existing U.S. policy toward Iran.
The United States and other Western nations believe Iran is pursuing a nuclear weapons program, but Iran says it is developing nuclear capability to produce energy. Iran has also been accused of sponsoring terrorists.
Still, in recent days, Tehran also has indicated it is ready to work alongside Obama to establish better relations with Washington.
Asked Monday whether Iran could have a civil, direct discussion of its nuclear program with the United States, Larijani -- once Iran's chief nuclear envoy -- said the government is open to the idea.
"It depends on the circumstances and the benefits of having that conversation," he said. "We don't want to be taken advantage of. But we're not against constructive dialogue."
Last week, Vice President Joe Biden told delegates at a security conference in Germany that the United States under the Obama administration will continue to develop a missile defense to counter the nuclear threat posed by Iran, but only in consultation with Russia.
Larijani also said Iran will continue to support the militant group Hezbollah -- considered a terrorist organization by Israel and the United States -- in Lebanon, as well as Palestinians in Gaza.
Israel and Hamas, the Islamic militant group that has ruled Gaza since 2007, declared separate, tentative cease-fires last month after more than three weeks of fighting in Gaza. Israel launched the attack on Hamas in Gaza on December 27 with the stated aim of ending rocket attacks on southern Israel.
Larijani said Israel should accept the Hamas leadership voted into government.
"Israel has to accept that Palestinians decide their own future with voting," he said. "We can't kick people out of their own territory and bring outsiders to occupy that place."
On a separate issue, asked whether he'd run in Iran's presidential election in June, Larijani dodged the question: "Thank God, there are many people on the stage."
E-mail to a friend

All About Ali Larijani • Iran • Barack Obama