GAZA CITY, Gaza (CNN) -- Israeli airstrikes hit a police station in central Gaza and tunnels near the border with Egypt late Sunday, Palestinian eyewitnesses said, after three Israelis were wounded by rocket attacks from the Hamas-ruled territory.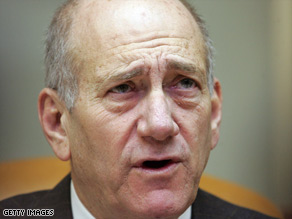 The airstrikes follow Israeli Prime Minister Ehud Olmert's warning of a "sharp Israeli response" to rocket attacks.
The Israeli military said airstrikes were underway late Sunday but would not confirm specific targets.
Israeli F-16 fighter jets were used to strike the tunnels, Egypt's official Middle East News Agency said. Israel says the tunnels are used to smuggle weapons into Gaza.
Earlier Sunday, Israeli Prime Minister Ehud Olmert promised a "sharp Israeli response" after Palestinian militants fired 10 rockets and mortar shells into southern Israel. Two Israeli soldiers and one civilian suffered minor injuries in those attacks, Israeli authorities said.
Israel and Hamas, the Islamic militant group that has ruled Gaza since 2007, declared separate, tentative cease-fires two weeks ago following a three-week Israeli military operation in Gaza.
Israel launched its attack on Hamas in Gaza on December 27 with the stated aim of ending rocket attacks on southern Israel.
Hostilities left 1,300 Palestinians dead and 5,400 wounded. Thirteen Israelis, including 10 soldiers, were also killed in the fighting.
Don't Miss
On January 21, Israel and Gaza's Hamas leadership each declared cease-fires that took effect after Israeli forces withdrew from the Palestinian territory.
Since the cease-fires began, militants have sporadically fired rockets into Israel. Israel has responded with air strikes.
E-mail to a friend