(CNN) -- The U.S. Embassy in Yemen warned Americans there Monday it has received a report of a possible attack against its compound in Sanaa.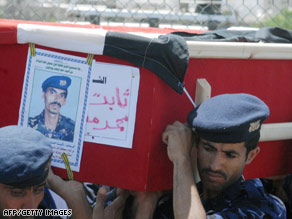 Yemeni soldiers carry the coffin of a comrade killed in September's attack on the U.S. Embassy.
The embassy, in a warden message, said it "has received a threat against the embassy compound regarding a possible attack which could take place in the foreseeable future."
It advises Americans "to exercise caution and take prudent security measures in all areas frequented by Westerners." It urges Americans there to avoid crowds and demonstrations and maintain "a low profile."
The message said Americans should vary times and routes, and make "contingency emergency plans such as ensuring travel documents are current."
Embassy spokesman Ryan Gliha confirmed the threat but had no more details available.
A U.S. intelligence official said there was enough credible information to suggest the threat was "not just bravado" and warranted "being very cautious." The official declined to be named because the official was not authorized to speak for the record.
Yemen has a strong Islamic militant presence and is in a strategically important region, bordering Saudi Arabia and Oman on the Arabian peninsula.
The United States has criticized the Yemeni government for not doing enough to combat terrorism and has repeatedly warned of violence that it attributes to Islamic extremists in Yemen.
U.S. and Yemeni officials say suspected Islamic insurgents disguised as Yemeni forces attacked the U.S. Embassy in Yemen's capital in September, killing 10 Yemeni police and civilians.
Don't Miss
A U.S. counterterrorism official last week said a Saudi national released from U.S. detention at Guantanamo Bay, Cuba, in September 2007 is believed to be a key leader in al Qaeda's operations in Yemen and may have been involved in the attack.
The official said the freed detainee, Ali al-Shiri, traveled to Yemen after being released to Saudi Arabia.
"He is one of a handful of al Qaeda deputies in Yemen," the official said. "He is one of the top terrorists."
In the September incident, six attackers -- including one wearing a suicide vest -- also were killed.
The attack involved at least four explosions -- including at least one car bomb -- and sniper fire. The attackers, disguised as Yemeni forces, bombed the outer wall of the embassy and opened fire on first responders.
In April the embassy and an expatriate residential compound in the Hadda neighborhood were attacked by mortar fire.
Suspected extremists fired two mortar rounds toward the Yemen Customs Authority and Italian Embassy in April, as well, but no one was hurt.
In March, three mortar rounds landed near the embassy wounding Yemeni students at a nearby school and Yemeni government security personnel.
The United States believes al Qaeda is responsible for the October 2000 bombing of the USS Cole in the Yemeni port of Aden. The attack killed 17 U.S. Navy sailors and wounded 39.
Yemen also borders the Gulf of Aden and the Red Sea, the region near Somalia where pirates have been hijacking commercial vessels traveling from countries all over the world.
E-mail to a friend

CNN's Elise Labott contributed to this report
All About U.S. Embassy in Yemen • Yemen • Red Sea