BAGHDAD, Iraq (CNN) -- A drive to boost the political and economic power of Iraq's oil-rich southern province of Basra has failed, Iraqi election officials said Wednesday.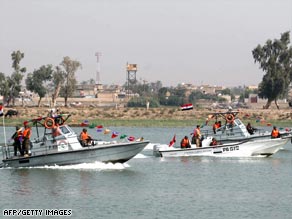 An Iraqi security patrols a water way in Basra.
A petition campaign that would have paved the way for a referendum asking voters to make Basra an autonomous region did not garner enough signatures, the Independent Electoral High Commission said.
The idea of an autonomous region in southern Iraq reflects the challenges of restoring political stability and balancing competing interests in Iraq among the war-torn country's many diverse constituencies.
Under the country's constitution, one or more of Iraq's 18 provinces may form federal regions. At present, the three-province Kurdish region is the only such region in the country.
There has been a tug of war between the central government and local powers. In the face of a push by regional officials for more autonomy, Iraqi Prime Minister Nuri al-Maliki backs a stronger federal government and wants changes in the constitution to bolster its power.
"The existence of a strong central federal government that is able to preserve the country's unity is not detrimental to the provinces; they will have more support and money to bring about achievements, develop the economy and increase services," al-Maliki said in remarks to crowds Wednesday in Najaf.
Federal region status would give Basra the same legal power as the Kurdistan in northern Iraq.
Basra officials backing federal region status hoped it would have boosted the amount of oil income staying in the region.
Basran politician Wail Abd al-Latif started the drive last month that would give voters the opportunity to make the Shiite-dominated province a federal region.
The month-long petition drive -- which began December 15 and ended January 19 -- needed the signatures of at least 10 percent of the registered voters in the province.
Officials said 135,707 signatures were required but only 32,448 signatures were collected before the deadline.
Another idea for an autonomous region had emerged from the Islamic Supreme Council of Iraq, one of the parties in the ruling United Iraq Alliance. It is looking at a nine-province federal region in the south.
Basra is the only Iraqi province that borders a body of water -- the Shatt al Arab waterway near the Persian Gulf. The province also borders Kuwait and Iran. Cities in the province include Basra city, Umm Qasr and Zubayr.
E-mail to a friend

CNN's Jomana Karadsheh contributed to this report.