By Karl Penhaul
CNN





GAZA CITY, Gaza (CNN) -- Palestinians in Gaza's Zeitoun neighborhood Sunday used bare hands and bulldozers to unearth 23 bodies of people killed in what witnesses say was an Israeli attack during Israel's three-week Gaza offensive.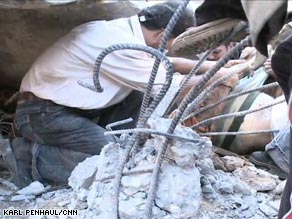 Men work to uncover bodies from the rubble of a Gaza home that witnesses say was destroyed in an Israeli attack.
The recovery of the bodies -- about half of which were of women -- came as a cease-fire took hold.
A United Nations brief issued shortly after the incident said about 30 people were killed in the attack, half of them children.
Abed Zamuni said two generations of his family were wiped out in the attack. Watch efforts to find bodies in the rubble

"Not one of my sisters is left," he told CNN. "My nephews and nieces have been executed and my home has been destroyed by the Jews."
He said that, during the first hours of Israel's ground offensive in Gaza on January 3, Israeli soldiers rounded up 110 men, women and children and herded them into a house, where they remained until January 5.
His nephew, Salah Zamuni, also said 110 Palestinians were ordered into a house, where they remained for two days without supplies.
Don't Miss
"When we went outside to try and get some firewood, they opened fire with rockets," he said.
Salah Zamuni's father was among the dead.
The Israeli military, meanwhile, said its actions were in response to continued rocket fire into Israel from Hamas and denied it had deliberately targeted civilians.
"The [Israel Defense Forces] is not familiar with any order to civilians to enter any particular building," the military said. "The IDF does not give those orders."
"It was an intentional massacre, this was no accident," Salah Zamuni told CNN. "I challenge anybody to tell me this was a mistake."
Israeli tanks fired two shells and an aircraft fired three rockets into the house, Abed Zamuni and other witnesses said.
Abed Zamuni said he was in a nearby apartment when the attack happened, and that he called his sisters, who were in the building, after the blasts.
"They were shouting and screaming, saying they were on the floor, that they were in a desperate situation," Abed Zamuni said.
In a speech Sunday to European Union leaders in Sharm el-Sheikh, Israeli Prime Minister Ehud Olmert expressed sorrow over the deaths of civilians during the operation.
"It wasn't our intention to fight them or to harm them, to hurt them or to shoot at them," he said. "In the name of the state of Israel, in the name of its government, I express my deep sorrow for these casualties."
Israeli soldiers stopped Palestinian paramedics from reaching some of the wounded for 48 hours, the International Committee of the Red Cross said. And when the paramedics were allowed passage, the Israelis did not give them enough time to recover the dead, the ICRC said.
"I begged them for medical help in God's name," said Salah Zamuni, referring to Israeli soldiers. "They just told us to go and die."

The people killed in the house were among the more than 1,200 people killed in Gaza during Israel's offensive, according to Palestinian medical sources.
On the Israeli side, 10 soldiers and three civilians have been killed and more than 200 soldiers have been wounded since Israel began its offensive with airstrikes December 27, an IDF spokesman said.
E-mail to a friend