(CNN) -- Diplomatic efforts to end the conflict in Gaza appear to be bearing little fruit as the fighting in Gaza dragged into its 20th day Thursday.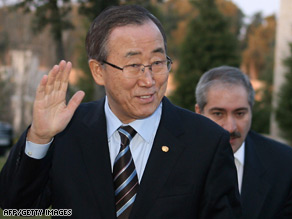 U.N. Secretary General Ban Ki-moon arrives for a meeting with Jordan's King Abdullah II in Amman.
U.N. Secretary-General Ban Ki-moon met Israeli Defense Minister Ehud Barak in Tel Aviv, Israel Thursday, as fresh fighting set ablaze part of a U.N. relief agency's central storehouse for humanitarian aid in the impoverished territory.
Ban, who has repeatedly called for the fighting to end, is in the region for several days of talks with leaders.
For their part, Arab leaders appeared at odds on how to address the crisis as the death toll crossed 1,000 -- or even where to meet.
Egypt wants to hold a summit in Kuwait on Sunday, on the eve of a previously scheduled Arab economic summit there. In the past, Egypt has hosted peace talks with leaders from Israel and the Palestinian Authority, and has acted as an intermediary between Hamas and Israel.

Watch as U.N. spokesman describes peace efforts »
But other Arab nations along the Persian Gulf -- Saudi Arabia, Qatar, Kuwait, the United Arab Emirates, Bahrain and Oman -- are holding their own summit in the Saudi capital Riyadh on Thursday, according to state-run Saudi media.
And Qatar's Emir Hamad bin Khalifa al Thani has renewed his call for an emergency summit in Doha on Friday "to discuss the situation in Gaza and the position Arab nations should take towards Israel," the Qatar News Agency reported.
The issue has split the Arab nations into two camps: Those, like Egypt, who want an end to Hamas' political influence, and others, like Qatar, who are more sympathetic to the movement.
"Is it possible to get into the third week of this Zionist aggression against Gaza and the Arabs can't hold a summit for Gaza and to stop this aggression?" Hamas spokesman Mohammed Nizal asked Wednesday.
Israel launched its campaign against Gaza on December 27 in an effort to halt the firing of rockets at its southern cities.
More than 1,000 Palestinians have been killed and nearly 5,000 wounded since then. Israel said 10 of its soldiers and three civilians have been killed and more than 100 soldiers have been wounded.

Watch as civilians suffer most »
Hamas refuses to recognize Israel's right to exist and has been designated a terrorist organization by the Israeli government, the United States and the European Union. A top official of the movement, which won Palestinian elections in 2006, has said it would accept a cease-fire only if the Jewish state withdraws from Gaza and lifts its economic blockade of the territory.
Israel is dispatching senior Defense Ministry official Amos Gilad to Cairo to talk with Egyptian officials.

Israeli government spokesman Mark Regev told CNN that he does not believe Hamas is interested in a lasting truce.
"Hamas is under a lot of pressure and they would like nothing more than a time-out just to rearm, regroup and prepare for the next round," Regev told CNN. "And that's not the sort of cease-fire Israel will agree to."
E-mail to a friend

CNN's Michal Zippori and Talal Abu Rahmi contributed to this report.