GAZA CITY (CNN) -- Israel's air and ground offensive in Gaza continued early Thursday, killing three people and wounding another outside the home of Hamas leader Mahmoud al-Zahar, according to Palestinian medical sources.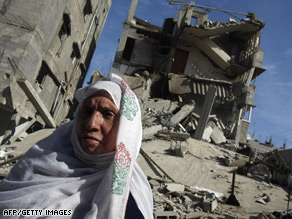 A Palestinian woman stands near a wrecked building following an Israeli strike in Gaza City.
Three others were killed when the al-Bashir mosque in eastern Gaza came under fire, the medical sources said.
Witnesses said fighting intensified overnight in southern Gaza City's Tel el-Hawa neighborhood. Israeli forces have closed in on the densely populated city since the weekend.
On Wednesday, Palestinian medical sources said the death toll in the Gaza conflict had risen to 1,010 Palestinians.
Another 4,700 have been wounded in the conflict, which began on December 27, the medics said.
Thirteen Israelis, including 10 soldiers, have died in the operation in Gaza and from rocket strikes on southern Israel, according to the Israeli military. More than 100 soldiers have been wounded, most of them not seriously.
U.N. Secretary-General Ban Ki-moon once again called for an immediate halt to the fighting.
"I repeat my call for an immediate and durable cease-fire," Ban told reporters in Cairo. "I've been urging in the strongest of possible terms all sides must stop fighting now. We don't have any time to lose."
Ban spoke Wednesday after meeting with Egyptian President Hosni Mubarak, his first stop in a series of direct talks aimed at brokering a cease-fire between Israel and the Palestinian militant group Hamas.
The two sides have ignored a U.N. resolution -- and Ban's earlier calls -- demanding an immediate cease-fire.
The secretary-general will also travel to Jordan, Israel and Syria, but will stop short of visiting Gaza or talking directly with Hamas, which controls the area.
"I would have personally liked to visit Gaza at this time. That was in my mind, in my heart. But in view of the current situation in Gaza, I am not quite sure at this time whether I would be able to visit Gaza," he said.
Mubarak has hosted peace talks with leaders from Israel and the Palestinian Authority and has acted as an intermediary between Hamas and Israel. Israel has designated Hamas, which refuses to recognize Israel's right to exist, a terrorist organization and has refused to enter direct talks with the group.
Meanwhile Wednesday, al Qaeda chief Osama bin Laden called for jihad to stop the Israeli offensive in Gaza, according to an audio message posted on a radical Islamist Web site.
Don't Miss
The Israel Defense Forces said its air force struck about 60 targets in Gaza overnight, including the headquarters of the Hamas-run police force in Gaza City and five rocket-launching sites. It also continued to bomb tunnels used to smuggle goods and weapons into the blockaded territory from Egypt, the military said.
On the ground, Israeli troops continued to battle Palestinian fighters in Gaza City, while Israeli warships offshore bombarded Hamas targets, the IDF said. But at least 18 rockets fired by Hamas militants fell on southern Israel from Gaza on Tuesday, the IDF said.
And early Wednesday, for the second time in a week, rockets fired from Lebanon struck northern Israel. Three projectiles landed harmlessly in fields near the city of Kiryat Shmona, Israeli police said.

Watch who may be responsible for the rockets »
Several Palestinian militant factions are active in southern Lebanon, but there was no immediate claim of responsibility for the strike.
Palestinian medical sources said the death toll in Gaza includes more than 300 children, along with 13 medics and four employees of local media outlets.
The International Committee of the Red Cross said more than 28,000 Palestinians are taking shelter at U.N. schools across the territory during the fighting.
"Our kids, 14 years and younger, they are wetting their pants of fear. They can't control themselves any more because of the fear, because of the horror," said Abu Majed Sultan, a refugee from Beit Lahiya in northern Gaza, where heavy Israeli shelling was reported on Tuesday.

Watch Israeli pilot describe efforts to protect civilians »
He said 35 members of his family are staying at a U.N. school there, "and the older ones just slap each other -- no more respect. We all need psychiatrists now to come here so we can go back normal."
While the Israeli military has been halting its assault for a three-hour break each day over the past week, few people manage to leave their homes for food and other necessities, the ICRC said -- and those who do often return home empty-handed because of food shortages and long lines.
"People who dare to go out rush to supermarkets to try to buy as much food as possible in anticipation of further and more intense fighting in the coming days," said Antoine Grand, head of the ICRC office in Gaza. "The shelves are now almost empty, and prices are soaring."

Israel said more than 1,000 truckloads of humanitarian aid has been allowed to enter the territory, carrying nearly 20,000 tons of food, fuel and medical equipment.
Israel has defended the incursion as necessary to stop constant rocket fire by Hamas into southern Israel and said it makes every effort to avoid harming civilians.
E-mail to a friend

CNN's Talal Abu Rahmi, Ben Wedeman, Nada Husseini and Shira Medding contributed to this report.