GAZA CITY, Gaza (CNN) -- Three rockets fell on northern Israel from Lebanon for the second time in a week, striking in open fields, Israeli police said Wednesday.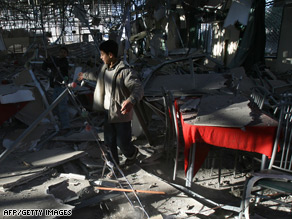 A young Palestinian stands Tuesday amid a wedding hall destroyed during Israeli strikes in Gaza City.
The rockets in northern Israel hit near the town of Kiryat Shmona, police said. No damage or injuries were reported from the attack, which came six days after a similar strike.
In Beirut, the Lebanese army said two rockets had been fired from the town of Hasbaya, and that the Israeli military had retaliated with rocket fire of its own. No further details were released.
There was no immediate claim of responsibility for the attack, which came amid a nearly three-week Israeli campaign to stop similar attacks from the Hamas-ruled Palestinian territory of Gaza to the south.
Israel fought a similar battle against the Lebanese Shiite Muslim militia Hezbollah in 2006, during which Hezbollah rained rockets on cities in Israel's north for a month before a cease-fire was reached.
Hezbollah has kept a tight rein on its forces in southern Lebanon since the cease-fire, and a number of Palestinian factions operate in southern Lebanon as well.
Lebanon's government condemned the attacks and ordered its troops to investigate the firings alongside U.N. peacekeepers.
In Gaza, Palestinian medical sources said 47 people had been killed since midnight Monday, bringing the death toll in Gaza to 971 since Israel began its offensive 18 days ago. Among them, 311 were children, 13 were medics and four were members of the local media, the sources said.
Don't Miss
Missiles from Israel's air force continued to fly as Hamas militants lobbed rockets over the border.
"I never witnessed anything like this, and I am 75 years old," said Abu Majed Sultan, a refugee from Beit Lahiya in northern Gaza, where heavy Israeli shelling was reported on Tuesday. He was speaking to Al Arabiya at a United Nations school that is being used as a shelter.
"Our kids, 14 years and younger, they are wetting their pants of fear; they can't control themselves any more because of the fear, because of the horror," said Sultan, who said 35 members of his family are staying at the school. "And the older ones just slap each other -- no more respect. We all need psychiatrists now to come here so we can go back normal."
More than 28,000 Palestinians displaced by the fighting are being housed at makeshift shelters at 36 U.N. schools, the International Committee of the Red Cross reported Tuesday.
While the Israeli military has been pausing its assault for a three-hour break each day over the past week, few people manage to leave their homes for food and other necessities, the ICRC said. Those who do get out often return home empty-handed because of food shortages and long lines.
Meanwhile, Israel's military reported one soldier was critically injured and two others received lesser wounds after an explosion in a booby-trapped house in northern Gaza. Weapons, including a machine gun, and a bulletproof vest were found in the house, Israel's military said.
Thirteen Israelis, including 10 soldiers, have died in the operation in Gaza and from rocket strikes on southern Israel, according to Israeli police and military.
The Israeli Defense Forces said Hamas militants fired 18 rockets into Israel on Tuesday, though no one was injured. Israel's stated purpose for the offensive in Gaza is to stop the rocket attacks.
Last week, the U.N. Security Council overwhelmingly approved a call for an immediate cease-fire in Gaza. Neither Israel nor Hamas -- which Israel, the United States and the European Union consider a terrorist organization -- heeded the call.
Israel has defended the incursion as necessary to stop constant rocket fire by Hamas into southern Israel and said it makes every effort to avoid harming civilians.
On the diplomatic front, U.N. Secretary-General Ban ki-Moon was scheduled to arrive in the region on Tuesday to try to ramp up the push for a truce.

He is scheduled to meet with Egyptian President Hosni Mubarak and Arab League leader Amr Moussa on Wednesday in Cairo, then head to Jerusalem, where he is to meet Israeli leaders, including Prime Minister Ehud Olmert, on Thursday.
Mubarak has hosted peace talks with leaders from Israel and the Palestinian Authority. Hamas has not been invited to take part in the talks, although Egypt in the past has acted as a go-between between the group and Israel, which will not negotiate directly with the group.
E-mail to a friend

CNN's Talal Abu Rahmi, Ben Wedeman, Nada Husseini and Shira Medding contributed to this report.