(CNN) -- Few civilians trapped in the crossfire between the Israeli military and Hamas in Gaza dare to venture out of their homes because of the constant threat of violence.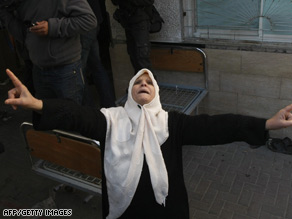 A Palestinian woman reacts to the death of her son at a hospital in Gaza on Sunday.
Sami Abdel-Shafi, who lives just a few hundred meters from Gaza's seashore, said he hears almost constant bombardment from Israeli ships offshore as well as thundering airstrikes by Israeli jets.
With "almost no sleep" in the nine days since Israeli airstrikes against Hamas targets began, Abdel-Shafi said the recent conflict has been very traumatizing.
"No one really is daring to step out of their houses to buy anything, assuming they can find it in the market and assuming they find a place that is open," he said.
Abdel-Shafi said stocks of basic essentials were already short on Gaza shelves because of the Israeli blockade of Gaza's borders.

Watch Palestinians describe constant bombardment »
"People are put in a constant state of the unknown and this is very, very unsettling," he said.
A similar sentiment is echoed by Dove Hartuv, who lives in his Israeli kibbutz Nahal Oz, a regular target of mortars and rockets launched in Gaza for the past eight years.
AC360° LIVE in Israel
Anderson Cooper covers the Gaza conflict LIVE from Israel.
10 p.m. ET Monday

From his back porch, Hartuv said he can hear the thundering sounds of war just across the Gaza border.

Watch widespread destruction in Gaza »
"It's been a sleepless night," Hartuv told CNN by phone Sunday. "Hopefully, all this will end as soon as possible, and both sides will be forced to come to the conference table and find an agreement that will be acceptable to both sides."

Listen to Hartuv describe situation »
Hartuv said the fighting is not about taking over Gaza or toppling the government or ruling forces there.
"What we want is just what every ordinary citizen would want -- to live in peace and to be able to live with our neighbors," he said. "I have been a neighbor of Gaza for the last almost 50 years and it's about time that my children and grandchildren would be able to live in peace."
Don't Miss
Hartuv said he has sympathy for the ordinary people of Gaza who are suffering.
"There's no comparison to the life that we lead here and the life that the people in Gaza are leading and have been leading for so many years," he said. "Here, life is normal, just the same as anywhere in the United States, except the fact that we do not have peace. iReport.com: Share reactions to 'all-out war' in Gaza
"Even though we are different people, with different beliefs, different cultures, different languages, we are neighbors and neighbors have to learn to live together," Hartuv said.
E-mail to a friend