UK authorities examine claims of troop abuse on Iraqis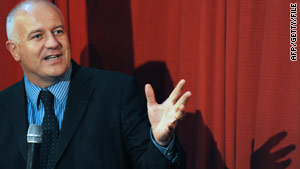 UK armed forces minister Bill Rammell Saturday stressed the high standards of UK troops in Iraq.
STORY HIGHLIGHTS
Lawyer tells CNN-affiliate ITN that allegations include rape, sodomy, sleep deprivation

UK armed forces minister: Claims of abuse are not being treated lightly

Lawyer: Some claims similar to the alleged abuse by U.S. soldiers at Abu Ghraib

Minister: Vast majority of 120,00 UK troops who served in Iraq have highest standards
LONDON, England (CNN) -- British authorities are investigating at least 30 claims that soldiers abused Iraqi civilians during the war, the British Ministry of Defence said Saturday.
Phil Shiner, the lawyer representing the Iraqis, told CNN-affiliate ITN the allegations include rape, sodomy sleep deprivation and other abuses.
Some of the allegations are new and some were lodged some time ago, said a ministry spokesman, who cannot be named in line with policy.
"We are now looking into these new cases," the spokesman said. "Some of the cases we are looking at though go back a while, some are even from February this year, so all 30-something cases are at different stages in the investigation."
Armed forces minister Bill Rammell said the claims are not being treated lightly.
"Allegations of this nature are taken very seriously, however allegations must not be taken as fact and formal investigations must be allowed to take their course without judgments being made prematurely," Rammell said

Video: Allegations of abuse by troops
Shiner said some of the abuse claims were similar to the alleged abuse by U.S. soldiers of Iraqi detainees at Abu Ghraib prison in Baghdad.
"It was a lot of sexual abuse. It is using sex as a mechanism to humiliate," Shiner told the affiliate. "There are too many cases."
One allegation was a 14-year-old boy forced to perform sex acts and another allegation by an Iraqi man who said he was raped by two soldiers, Shiner said.
Rammell addressed the claims in a statement Saturday.
"Over 120,000 British troops have served in Iraq and the vast, vast majority have conducted themselves to the highest standards of behavior, displaying integrity and selfless commitment," Rammell said.
"While there have been instances when individuals have behaved badly, only a tiny number of individuals have been shown to have fallen short of our high standards."
CNN's Per Nyberg contributed to this report.