BERLIN, Germany (CNN) -- A 25-year-old Turkish man was arrested Friday in Stuttgart, Germany, after he allegedly uploaded a video containing threats against the country onto a "known Internet platform," police said.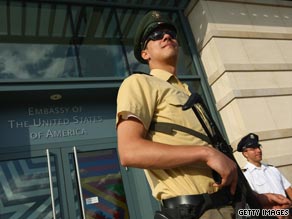 Germany has stepped up security since the release of two videos containing threats.
It is the second video in a week aimed at Germany. After the first was released on September 18, the Interior Ministry said there had been an increase in threats by al Qaeda and other Islamist groups since the start of the year.
The videos voice opposition to German troops' presence in Afghanistan and link that to Sunday's election.
German Interior Ministry spokesman Stefan Paris downplayed the implications of Friday's video, saying it appeared to be more of a "recruitment video" for militants, and contains no "concrete threat."
"We remain vigilant and on alert, but there are no further grounds for concern," he said.
Police did not identify the Web site where the most recent video appeared, but said it had been accessed almost 4,000 times.
The suspect, who is unemployed and lives alone, is not believed to have been involved in producing the video, and police added that they didn't know where he got it.
They said he was "actively involved" in well-known online platforms.
The man, who is not named, is known as a "supporter of Islamist activities," and has been under surveillance "for some time," according to the statement. Officers from the Division for State Security Protection participated in his arrest.
The voice on the last two videos is believed to be that of Bekkay Harrach, who uses the pseudonym Abu Talha. He speaks in German in all three.
The German government increased its terrorism alert level after the September 18 video appeared, tightening security at rail stations and airports.
E-mail to a friend

CNN's Diana Magnay contributed to this story.
All About