LONDON, England (CNN) -- Britain's Prince Harry turned 25 Tuesday in the knowledge that he is now entitled to part of the multi-million dollar inheritance left to him by his late mother.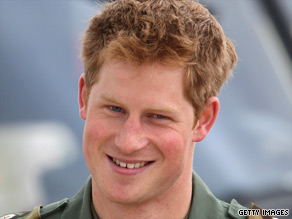 Prince Harry is currently training to become a helicopter pilot with the British Army.
Harry was just 12 years old when Diana, Princess of Wales, was killed in a car crash in Paris in 1997.
His mother left an estate worth £21 million ($35 million), but more than £8 million ($13.31 million) was paid in inheritance tax, leaving around £13 million ($21.6 million) to be shared between Harry and his brother William, who is second in line to the throne, the British Press Association reported.
Much of that money is thought to have been invested but it is not known if the economic downturn has affected the amount.
Both princes are prevented from spending the lump sum of their inheritance until they turn 30. But Harry will pocket all income generated by his portion of the estate -- around £300,000 ($500,000) a year.

Watch more about Prince Harry's birthday windfall »
Prince Harry joined the British Army in 2006 and served in Afghanistan for more than two months from the end of 2007 to early 2008, before being withdrawn after news of his secret deployment leaked out to the media.
There had been fears that Harry, who is third in line to the throne, could become a target for Taliban militants.
According to British media reports, the prince's deployment was subject to a news blackout deal struck between the Ministry of Defence and newspapers and broadcasters in the UK and abroad.
He received a promotion to the rank of lieutenant in April last year and is now training to become a helicopter pilot with the British Army's Air Corps.
The young royal has also created a few negative headlines, particularly in Britain's tabloid press, in recent years.
In February this year, he was formally disciplined by his Army superiors after videos surfaced showing him using offensive language -- referring to a fellow soldier as a "Paki" and another as looking "like a raghead."
A spokesman for the prince told CNN: "Prince Harry has apologized for his comments and has been subjected to normal Army disciplinary procedures. The matter is now closed."

In a well-publicized gaffe in 2005, Harry apologized after he was photographed wearing a Nazi uniform at a party.
"It was a very stupid thing to do and I've learned my lesson, simple as that really," he said in an interview marking his 21st birthday. "I'd like to put it in the past now. What's done is done. I regret it."
E-mail to a friend

All About Prince Harry of Wales • Princess Diana