LONDON, England (CNN) -- Three men convicted of plotting to bomb planes flying from London to North America with liquid explosives hidden in soft drink bottles were Monday given life sentences.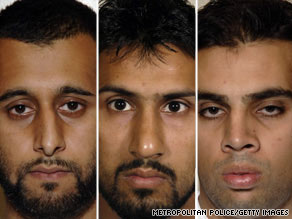 Left to right:Tanvir Hussain, Abdulla Ahmed Ali and Assad Sarwar were found guilty of the bomb plot.
The men were arrested in August 2006 in connection with the plot. The plot led to immediate restrictions on liquids that passengers are allowed to carry onboard aircraft, resulting in today's rules that allow only small amounts to be carried in resealable clear plastic bags.
The judge, Justice Richard Henriques, called the plot "the most grave and wicked conspiracy ever proven within this jurisdiction."
"The plot would have succeeded but for intervention of police and security services," he said, rejecting a defense argument that the men would have failed to get the chemistry right and actually blow up planes.
The ringleader, Abdulla Ahmed Ali, 28, must serve at least 40 years before he is eligible for parole, the judge said.

Watch CNN's Paula Newton discuss verdict »
He is "likely to remain a serious danger to the public for a long time," Henriques, said. "You are a driven and determined extremist with boundless energy."
"You sought world attention. Well, now you have it," he said to Ali, who wore blue tracksuit pants and a baggy brown sweat top to hear his sentence.
Ali sat impassively for most the court hearing, but shook his head on a number of occasions as if disputing what judge was saying, especially when the judge talked about a visit to an internet cafe to research flights.
At times, he also started reading, or at least looking through, a copy of the Quran.
A second plotter, Assad Sarwar, 29, must serve a minimum of 36 years before he is eligible for parole.
Henriques gave him a lesser sentence on the grounds that he was not the ringleader of the plot and not involved in recruiting other people for it.
Don't Miss
The third man convicted of the plot, Tanvir Hussain, 28, must serve at least 32 years, the judge said, calling him "no mere footsoldier."
A fourth man, Umar Islam, 31, was found guilty of conspiracy to murder, a charge not explicitly linked to airlines.
The judge sentenced him to at least 22 years in jail before he is eligible for release.
British prosecutors called the plot "calculated and sophisticated" and said it could have killed hundreds or even thousands of people.
"These men wanted to bring down several aircraft in a short space of time, indiscriminately killing hundreds of innocent people -- perhaps more if they'd succeeded in activating their devices while over cities," Sue Hemming, head of the Crown Prosecution Service Counter Terrorism Division, said last week when they were convicted.
"This was a calculated and sophisticated plot to create a terrorist event of global proportions and the jury concluded that Ali, Sarwar and Hussain knew what the target was," she said in a statement.
It had been the second trial for the men, after British prosecutors said last December they would retry them because the jury could not reach a verdict on a key charge.
They were found guilty in the first trial of conspiracy to murder, but not of intending to endanger the safety of aircraft. In the new trial, they faced a slightly different charge -- plotting to murder by blowing up planes.
The men were arrested in August 2006 when police thought the plan was ready to be put into action.
The Metropolitan Police operation targeting them, codenamed Operation Overt, was one of the biggest investigations in the history of London's main police force, they said in a statement welcoming the verdict.
Ali, Sarwar and Hussain had said they were planning to detonate bombs at key sites as part of a political statement, not with the intent to kill anyone.
They maintained that they were not guilty of plotting to blow up planes over the Atlantic Ocean.
Prosecutors are seeking a retrial for three other defendants in the plot after a jury was unable to reach a verdict.
A jury Monday cleared the three -- Ibrahim Savant, Arafat Waheed Khan, and Waheed Zaman -- of conspiracy to murder by blowing up trans-Atlantic aircraft, but it was hung on whether to convict the men of conspiracy to murder persons unknown.
The director of public prosecutions, Keir Starmer, said Friday he has decided to seek a retrial of the three men. If a retrial is agreed upon, it will be the third time the men are tried in the case.
E-mail to a friend

CNN International Security Correspondent Paula Newton and Andrew Carey contributed to this report.
All About Terrorism