LONDON, England (CNN) -- Britain cannot guarantee that its allies are not torturing terror suspects, two top government ministers said Sunday.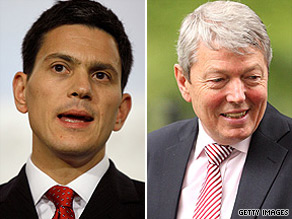 David Miliband (left) and Alan Johnson were writing in Britain's Sunday Telegraph newspaper.
And it's possible that information used to thwart planned terror attacks was obtained through torture abroad, Foreign Secretary David Miliband and Home Secretary Alan Johnson said.
The ministers did not specify which of their allies practice torture.
But a parliamentary report last week examined allegations of British complicity in torture at Guantanamo Bay -- the United States' detention facility in Cuba -- and in Pakistan, Egypt and Uzbekistan.
British police are investigating Binyam Mohamed's allegations that British security agents colluded in his being tortured at Guantanamo.
Parliament's Human Rights Joint Committee recommended setting up an independent investigation into the allegations that the British government is complicit in torture.
Miliband and Johnson insisted that British security services do not mistreat people in custody
Don't Miss
"When detainees are held by our police or Armed Forces, we can be sure how they are treated," the ministers wrote in the Sunday Telegraph.
"By definition, we cannot have that same level of assurance when they are held by foreign governments."
The ministers did not specify which of their allies practice torture, but they defended working with countries that might.
"Intelligence from overseas is critical to our success in stopping terrorism," they wrote. "All the most serious plots and attacks in the UK this decade have had significant links abroad."
And, they said, Britain makes every effort to ensure it does not obtain information through torture practiced by other countries.
"Our agencies are required to seek to minimize, and where possible, avoid the risk of mistreatment," Miliband and Johnson said.
"Operations have been halted where the risk of mistreatment was too high. But it is not possible to eradicate all risk," they said. "Judgments need to be made."
Reprieve, a human-rights organization, said the ministers' statement was not good enough.
"As usual, our government is hiding behind general statements rather than addressing specific allegations. This is simply not good enough," a Reprieve representative said.
The group is demanding that the government publish information about what happened to Mohamed at Guantanamo Bay, pointing to a British High Court ruling in July that the government fed the CIA questions to ask Mohamed when he was held there.
"The judges make clear that the British knew as early as May 2002 that Binyam was being tortured," Reprieve wrote last week to Parliament's Intelligence and Security Committee, which oversees the British secret services.
E-mail to a friend

All About Torture • David Miliband • Guantanamo Bay Detention Center