7 suspects charged over Mumbai attacks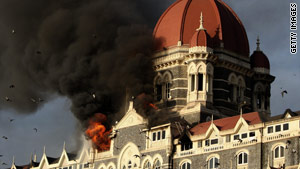 Smoke billows out of the Taj Majal hotel in Mumbai, India, during a siege in November 2008.
STORY HIGHLIGHTS
Seven suspects arrested over last year's attacks on Mumbai are charged
Siege at hotels and attacks on other targets left 160 people dead
Suspects face death penalty if convicted of committing act of terrorism
Islamabad, Pakistan (CNN) -- Seven suspects arrested in connection with last year's attacks on the Indian financial capital of Mumbai were charged in connection with the siege Wednesday, a defense attorney for one of the men told CNN.
The suspects are Zaki-ur-Rehman Lakhvi, the alleged mastermind of the attacks, Umar Abjul Wajid, Shahid Jameel Riaz, Jameel Ahmed, Mohammad Younas Anjum, Mazhar Iqbal and Hammad Amin Sadiq.
Alyas Saddiqi, the defense attorney representing suspect Jameel Ahmed, said the defendants were charged with acts of terrorism, money laundering, supplying funds for terrorism, and providing tools for terrorism. Saddiqi said all the defendants pleaded not guilty to the charges.
The suspects face the death penalty if convicted of committing an act of terrorism.
The four-day siege in Mumbai began November 26, 2008, when gunmen attacked 10 sites, and took over three five-star hotels and a Jewish center. At least 160 people were killed, as well as nine of the 10 attackers.

Video: Mumbai survivor struggles
India blames the Lashkar-e-Tayyiba militant group, based in Pakistan, which was designated by the United States as a terrorist group with ties to Osama bin Laden's al Qaeda network.
The lone surviving suspect has linked the attack to the leader of Lashkar-e-Tayyiba, a militant group that is banned in India.
Journalist Nasir Habib contributed to this report