At least 26 dead in Pakistan traffic blast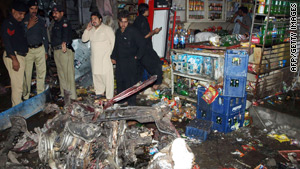 Police stand next to wreckage of vehicles destroyed in Tuesday's suicide bombing in Charsadda.
STORY HIGHLIGHTS
At least 26 dead, 60 injured in blast at congested traffic circle
Blast happened in Charsadda 29 kilometers north of Peshawar
Peshawar has been target of multiple militant attacks in recent weeks
Islamabad, Pakistan (CNN) -- A suicide car bomber struck a congested traffic circle outside Peshawar Tuesday, killing at least 26 people -- including several women and children -- and wounding 60 others, police and hospital officials said.
The blast happened in Charsadda, which is located about 18 miles (29 kilometers) north of Peshawar.
The attack happened just as Charsadda District Police Chief Mohammed Riaz Khan was leaving the area, and Khan told CNN he believes his two-car convoy was the target of the attack.
As he left his office and headed home, Khan said a red car approached the convoy but it was blocked by a passing donkey trolley.
Moments later, the car blew up and Khan says he believes that the suicide bomber intended to ram his convoy. Khan also noted that he has recently received threats from militants.
The bomber used 50 kilograms (110 pounds) of explosives in the attack, Peshawar police chief Liaqat Ali said. The impact of the blast destroyed several nearby buildings and vehicles, Khan said.
The dead include six children and three women, Ali said.
In recent days, Peshawar -- the capital of Pakistan's North West Frontier province -- has come under increasingly frequent attacks. A suicide bombing at a police checkpoint on Peshawar's Ring Road killed at least three people Monday. A suicide car bombing Sunday killed 17 people in the city, including an area mayor.
On October 28, a massive car bomb tore through the heart of a bustling marketplace in Peshawar, killing at least 100 people and wounding at least 200 others. It was the country's deadliest attack in two years.
Pakistan has blamed the violence on Islamic militants who have vowed to avenge an intense military offensive to rout them from their haven along the country's border with Afghanistan.
CNN's Samson Desta and journalists Umar Aziz Khan, Nasir Habib and Nazar Ul Islam contributed to this report.