(CNN) -- Five men were convicted Friday in Sydney, Australia, of trying to commit terrorist acts in the country's longest-ever terror trial, court officials said.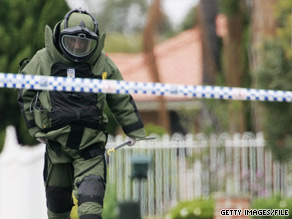 A bomb disposal officer walks down a street in Green Valley near Sydney, Australia, on November 8, 2005.
The guilty verdicts came after a jury deliberated for 23 days, according to a statement from the Supreme Court of New South Wales.
The men -- Mohamed Ali Elomar, Abdul Rakib Hasan, Khaled Cheikho, Moustafa Cheikho and Mohammed Omar Jamal -- were found guilty of "conspiracy to do acts in preparation for a terrorist act or acts."
The men will be sentenced on December 14.
About 300 witnesses testified in the 10-month trial, in which prosecutors used about 18 hours of recorded telephone conversations to prove that the men were planning a terror attack in Australia.
The suspects were connected to four other suspects who had earlier pleaded guilty to charges that included acquiring weapons, hydrochloric acid and bombs for an attack.

Watch report on convictions »
The men were arrested in November 2005 after a raid at a home.

"They were stockpiling weapons, but we don't know what the intended target was," said Sonya Zadel, a court spokeswoman, who would not reveal which terror group the men were connected to.
The Australian Broadcast Corporation said three of the men had trained at paramilitary camps in western New South Wales to prepare for the attacks. But defense attorneys said the men were just hunting and camping.
E-mail to a friend

All About Australia • Terrorism
All About Sydney (Australia) • Australia • Terrorism