By Saeed Ahmed
CNN





(CNN) -- A new law to fatally stone adulterers is unlikely to survive government review in Indonesia, but it highlights the latest push toward stricter Islamic law in the semi-autonomous Aceh province.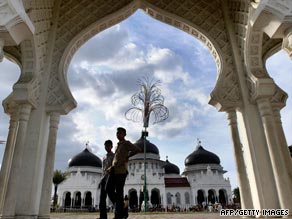 Teenagers walk past one of the main mosques in the staunchly Muslim region of Aceh.
The law was unanimously rushed through the provincial parliament last month by outgoing lawmakers, who are part of the hardline Prosperous Justice Party. In addition to the death sentence for adultery, it calls for the public flogging of homosexuals.
The law also dismisses a rape victim's claims unless she can provide four male witnesses to the assault.
"It is very unlikely the law will be implemented," foreign ministry spokesman Teuku Faizasyah said Tuesday. "The governor has already made it clear he won't support the legislation."
The province on the northern tip of the island of Sumatra has long enjoyed relative autonomy from the central government. It was permitted to adopt a semi-independent legal system in the early 2000s on the condition that it give up its demand for independence after a 30-year insurgency.
Fundamentalist clerics have taken advantage of the lax oversight by implementing a strict interpretation of Islamic, or sharia, law in the province of 4 million people.
Women are required to wear headscarves. Men caught gambling or drinking alcohol are whipped. Muslims are mandated to pray five times a day.
The governor, Irwandi Yusuf, is a former rebel who has had to juggle the demands of the religious leaders -- who hold considerable sway over the deeply devout province -- with that of foreign donors. He needs their support to pull Aceh from the one-two punch of the bloody insurgency and a devastating tsunami in 2004.
"Imposing these draconian punishments on private, consensual conduct means the government can dictate people's intimate lives," Elaine Pearson, deputy Asia director of Human Rights Watch, said of the new law.
"It is incumbent upon the Indonesian government to stand up for the rights of all its people and reject these measures," she said in a statement.
Faizasyah, the foreign ministry spokesman, is confident the government will.
Elections held earlier this year dealt a blow to Islamic hardliners in Aceh. The parliament that will convene this month is dominated by lawmakers belonging to secular Partai Aceh, many of whom are former rebels. They do not share the hardline tenets of their predecessors.
Furthermore, the new sharia law contravenes national law and can be overturned if the province doesn't act first, Faizasyah said.
"First, I don't think the local government will approve the legislation," he said. "Second, if there is approval -- and we're talking 'if' -- it still can't be implemented if it contradicts legislation at the national level."
E-mail to a friend